Show- cause to teachers of Delhi government schools over poor performance of students
The director of education ordered district deputy directors of education (DDEs) to issue show-cause notices to all teachers with less than 80% results in X and XII classes to explain as to why action as per CCS (CCA) Rules for Minor Penalty should not be initiated against them for poor performance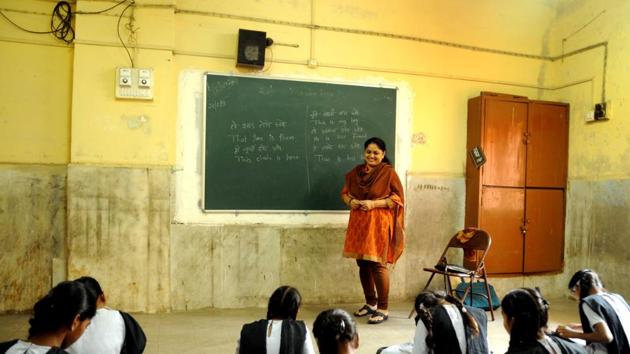 Updated on May 20, 2019 11:55 AM IST
The Delhi government will demand an explanation from teachers of state-run schools where less than 80% students cleared the CBSE class 10 and 12 board exams this year.
According to the minutes of a coordination committee meeting chaired by the director of education on May 15, all district education officers have been asked to issue show- cause notices to teachers of schools over "poor performance".
"The director of education ordered district deputy directors of education (DDEs) to issue show-cause notices to all teachers with less than 80% results in X and XII classes to explain as to why action as per CCS (CCA) Rules for Minor Penalty should not be initiated against them for poor performance," the minutes stated.
The teachers will be given a chance to improve the performance of their students during remedial classes being held in summer vacations. "Action, if required, would be taken keeping in view the result of the compartment exams," the minutes added.
State education department officials said less than 80% students passed the board exams in as many as 572 government schools. "Not all teachers will be issued show-cause notices. It will be decided on class-based performance. For instance, if there are 50 students in a class and less than 42 have passed the exams then show-cause notices will be issued to teachers of that school," said a government official who wished not to be named.
"The government is paying full attention to students who have to write the compartment exams. Regular remedial classes are being held for them," the official said.
Overall, Delhi's 1,024 government schools registered a pass percentage of 94.24 and 71.97 in the CBSE class 12 and 10 exams, respectively, in the academic year 2018-19. While the performance of government schools was better than their private counterparts in class 12 exams, they lagged in class 10.
The government school teachers association (GSTA) termed the move "irrational". "It is an arbitrary decision. Instead of praising teachers for improving the overall results this time, the government is punishing us. We will resist the move and will move court if required," said Ajay Veer Singh, general secretary of the association.
In February last year, teachers of around 120 government schools were issued notices after 31% students who wrote the Class 10 pre-board exams passed. "The government had even tried to stop the increment of a teacher after his class could not perform well in the class 10 boards in 2018. We are going to protest this move," said Sandeep Bhardwaj, GSTA district secretary.
Officials at the DoE said such action would be taken only if results do not improve even in the compartment exams. As many as 44,516 and 99,207 students of Delhi government schools will write the compartment exams for class 10 and 12, respectively, in 2019.
Close Story