University of Tezpur, Panjab make it to Times Higher Education rankings
Dec 15, 2017 07:18 PM IST
Many other lesser-known institutes are on the list of top 1000 for reasons such as improved amenities and transparent administration.
When you think international rankings, you generally think IITs, maybe IISc.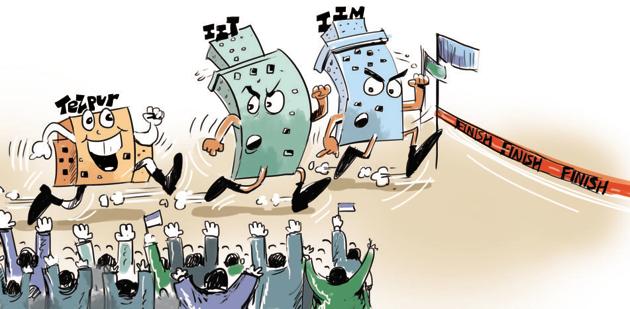 But there are quite a few other Indian universities making it to the Times Higher Education Top 1000 global rankings 2018, for reasons ranging from increased industry participation to improved amenities and more transparent administrations.
Did you know, for instance, that on the list released last month is Panjab University in Chandigarh (Rank #601), Osmania University in Hyderabad (#800), Assam's Tezpur University (#601), Andhra University in Vishakapatnam (#800), Savitribai Phule Pune University (#601), as also Jadavpur University in Kolkata (#6​01)?​ ​
The rankings generally reflect a university's readiness to adopt next-generation systems and academic practices, says Phil Baty, editorial director of the Times global rankings. "Indian universities are increasingly collaborating with industry. They are also offering interesting mixes of subjects to undergraduates, and attracting more foreign students."
Panjab University (PU), for instance, involves students and faculty in administrative decision-making, via social media.
"We try to involve the entire campus community in the matter of improving the university," says M Rajivlochan, director of the varsity's Internal Quality Assurance Cell. "We have WhatsApp and e-mail groups through which we share all development plans, including the minutes of the monthly meetings of deans and vice-chancellor. Students appreciate the transparency and feel connected."
This applies even to issues such parking and traffic. Last year, PU faculty and students were asked to vote on whether they wanted more road space for cars or a car-free campus.
"Since a majority voted for a car-free campus, that's what it now is," says Gulshan Chhada, a second-year science student.
​​ Making it work
Universities across the country are beginning to work to achieve better industry participation and developing curricula, says Narendra Shyamsukha, founder chairman of education consultancy ICA Eduskills. "This has contributed to many Indian universities making a mark in the world rankings," Shyamsukha adds. "Universities are attracting more employers and funds for research from industry, which is having a positive impact on students as well."
Tezpur University, for instance, was not featured in the Times rankings of the top 1000 universities in the world, until 2016.
"Starting last year, we have implemented one-month induction programme for all teachers," says registrar Biren Das. "The programme is not subject-specific and involves industry experts training our teachers in student engagement, teaching methodology and smart classrooms." Das believes that this has helped improve the teaching output at the university.
Panjab University, two years ago, set up a 'business park' for student startups on campus. "We currently have 20 student businesses
​running ​ there," says Rajivlochan. "Each company is a group of five to seven students that design medical devices or hardware engineering equipment, just anything they are passionate about. They get mentorship on campus. After two years they can either set up a company outside campus or take up a job in placements."
Hyderabad's Osmania University is another new entrant to the Top 1000. "The university has been offering several inter-disciplinary courses since 2015, through MOUs with different institutions," says registrar CH Gopal Reddy. "What also makes us attractive for students is that we offer very niche Masters programmes in fields such as nanoscience, radiological physics and pharmaco informatics."
Good infrastructure, exchange programmes with foreign universities and funding for research are also making these universities a good Option A for students, says Rajivlochan.
Masoom Ahuja, 20, a second-year science student from Thane, would agree. "I plan to do a Masters in radiological physics, and I want to do it at Osmania University," says the University of Mumbai student. "Several education counsellors vouch for their programme and it is easier to get admission there than at an IIT."​