40 newly elected MLAs in Gujarat polls have criminal cases against them: ADR
Dec 12, 2022 09:44 AM IST
From 47 MLAs declaring criminal cases against themselves in 2017, the number of winning candidates with cases lodged against them fell to 40 (22%) in the 2022 Gujarat elections
In the recently-concluded assembly elections in Gujarat, 40 newly elected lawmakers have criminal cases registered against them with 29 winning candidates have serious criminal charges against them, a report by the association of democratic reforms (ADR) said on Sunday.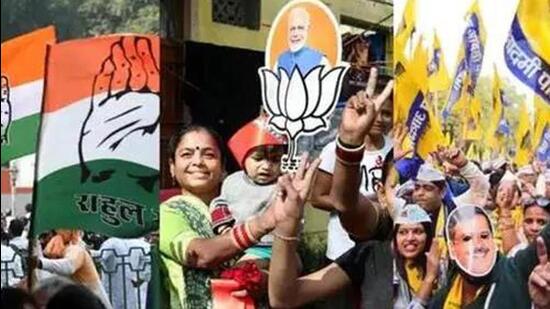 "Out of the 182 winning candidates analysed in 2022, 40 (22%) winning candidates have declared criminal cases against themselves. 29 (16%) winning candidates have declared serious criminal cases against themselves," the report by ADR stated.
From 47 MLAs declaring criminal cases against themselves in 2017, the number of winning candidates with cases lodged against them fell to 40 (22%) in the 2022 Gujarat elections.
From 182 MLAs elected to power during the Gujarat assembly elections in 2017, 33 (18%) MLAs had declared criminal cases, which also declined to 29 (16%) winning candidates with serious criminal cases in 2022.
Also Read: Gujarat elections 2022: Hits and misses, gains and upsets
Serious criminal charges constitute non-bailable offenses with a maximum punishment of five years or more related to assault, murder, kidnapping, and rape.
From BJP's 156 winning candidates, 26 MLAs have criminal cases lodged against them, whereas out of the Congress' 17 victorious candidates, nine have cases filed against them.
Two winning candidates from the Aam Aadmi Party (AAP), which has secured five seats, have declared criminal cases.
The solitary winning candidate from the Samajwadi Party (SP) also has a criminal case declared by him.
Meanwhile, the ADR report also stated the assets owned by the new legislators.
"Out of the 182 winning candidates analysed, 151 (83%) are crorepatis. In comparison to 2017, out of 182 MLAs analysed during the Gujarat assembly elections 2017, 141 (77%) MLAs were crorepatis," the ADR report added.
The BJP led the charge in the highest number of crorepatis at 132 out of its 156 winning candidates.
14 candidates from Congress' 17 winners and a single winning candidate each from the AAP and SP had declared themselves as crorepatis.
The average assets possessed by the 156 winning candidates from the BJP amounted to ₹17.15 crore. For the 17 INC winning candidates, the average assets per winning candidate amounted to ₹5.51 crore, whereas the average assets for AAP winning candidate was ₹98.70 lakh.
The single SP winning candidate has assets of ₹20.94 crore, and 3 independent winning candidates have average assets worth ₹63.94 crore.
Jayantibhai Somabhai Patel, the winning BJP candidate from the Mansa constituency of Gujarat, is the richest lawmaker with total declared assets of ₹661.3 crore, including ₹147 crore in moveable assets and ₹514.3 crore as immovable assets.
Balvantsinh Chandansinh Rajput, the second most prosperous winning candidate from the Sidhpur constituency, also to the BJP. He has declared his sources of income as business, trade, and agriculture, amounting to assets of over ₹372 crore.
With the exception of two independent candidates, the leading ten candidates with assets over ₹50 crore are all from the BJP.