Yogi meets Modi to discuss shape of his new government
On Sunday, Chief Minister Yogi Adityanath met with Prime Minister Narendra Modi and other top BJP leaders in Delhi to discuss the contours of his government to be formed after Holi (March 19).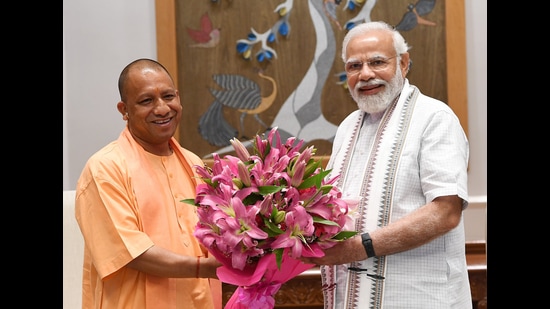 Published on Mar 13, 2022 11:45 PM IST
Chief minister Yogi Adityanath on Sunday met Prime Minister Narendra Modi and other top BJP leaders in Delhi to discuss contours of his government that is expected to be formed after Holi (March 19).
There is much speculation around the number of deputy chief ministers that Yogi government 2.0 will have this time, even as BJP leaders indicate that the shape of new government is still under discussion.
At least one of the claimants of deputy CMs post this time is a dalit woman, party leaders indicated, while quickly clearing that "these were among the realms of possibilities."
The outgoing Yogi government had two deputy CMs -- an OBC and a Brahmin.
Since dalits have voted for BJP in a big way, particularly in Agra that is considered as dalit capital of UP (BJP won all assembly segments in Agra) a 'dalit woman' as one of the deputy CMs is being talked about as a possibility.
"The Yogi 2.0 ministry will carry a strong imprint of the chief minister this time. Unlike in 2017 UP polls, when he emerged as the surprise candidate for chief ministership, this time BJP went into the elections with his face and he himself did his case a lot of good by winning with over 1 lakh votes from his bastion Gorakhpur, and also helped his party sweep four districts of Gorakhpur division by winning 27 of the 28 seats. Naturally, his elevated profile would reflect in his ministry," said AP Tiwari, a political analyst.
BJP leaders admit that women voters played a key role in shaping the BJP win. Of the 255 new BJP lawmakers and 18 others who won on tickets of its allies -- Apna Dal (Sonelal) and Nishad party -- at least 25 were women, the highest among all parties.
Six women of Samajwadi Party alliance had won and a lone woman won on Congress ticket. In all 560 women had contested the elections with Congress fielding the most, 159 of them.
The allies, too, would be represented in the Yogi government with at least one from Nishad party and two from Apna Dal (Sonelal) likely to be in the government, party leaders said.
Since Congress general secretary Priyanka Gandhi Vadra, who had staged an all-women march in the state capital on March 8, has declared that she was in UP for a long haul and would continue with her 'ladki hoon, lad sakti hoon (I am a woman, can accept a challenge)' campaign, the Yogi 2.0 ministry could have a bigger women representation, party leaders admit.
Some BJP leaders were also guessing on the role the party would assign to SP chief Akhilesh Yadav's sister-in-law Aparna Yadav, who had boosted the BJP campaign during elections by joining the party.
"Her role isn't clear yet. May be, since Akhilesh ji has said he would quit Karhal seat, the BJP may get her to contest the by-polls on the seat to set up an interesting contest. May be, that she could be made an MLC or could well be a part of Yogi government. Her role, too, would be under discussion," a BJP leader said.
Modi, after his meeting with Adityanath, tweeted: "Met @myogiadityanath and congratulated him on the historic UP win. In last five years, he worked hard to fulfill people's aspirations. I have full confidence that over the coming years, he will take UP even higher on the development path."
Yogi started his Delhi visit from UP Sadan where, after being welcomed by Hindu Yuva Vahini volunteers, he met vice president M Venkaiah Naidu. But it was his subsequent meeting with BL Santhosh, the general secretary (organization) that was keenly followed.
In June 2021, Santhosh had rushed to the state to initiate damage control measures amid Covid's second surge, and subsequent outrage, and to ensure the party stayed united ahead of elections.
Next, Yogi met union home minister Amit Shah.
"As someone who has been regularly the tapping Modi wave since 2014 to write the BJP's victory script in UP, Shah's suggestion and advice would matter a lot. Since Shah's bonding with Modi is well known, it is this meeting where the fine print would be actually discussed," a BJP leader said.
Yogi also met defence minister Rajnath Singh.
Close Story
Personalise your news feed. Follow trending topics