Akshay Oberoi: I have always tried to create more experiences for my son
Jan 17, 2023 12:22 PM IST
Actor Akshay Oberoi reveals why it is important for him to introducer his son to the culture of the US
Actor Akshay Oberoi grew up in New Jersey soaking in the culture of the US, while staying connected to the roots of his Indian ethnicity. And he wants the same to stand true for his son, Avyaan.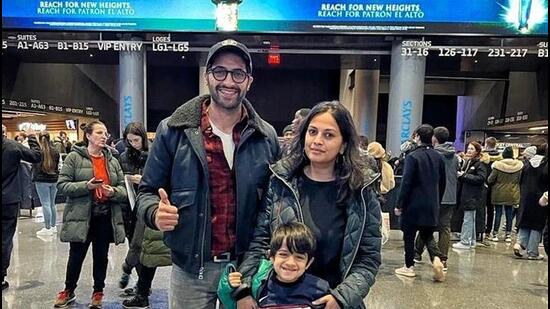 That's why he started his 2023 by taking his son for his first ever sporting match of his favourite basketball team in New Jersey.
"I am a huge basketball player. I am a devoted follower of professional basketball and have never missed cheering for my favourite team, even if virtually. But this time it was special because my son Avyaan was with me when I went to the Brooklyn Nets match. Nothing can top it up for a father's emotion to see his son supporting his father's favourites. I have always tried to be a hands-on dad and aimed to create more experiences for my son and this was one such moment. This was our first live basketball match together and definitely not the last one," he says.
For him, making his son familiar is important, and he is using sports to do it.
"You want him to see and feel like your hometown is his, too. He is an extension of me. I want him to be familiar with all parts of my life. I grew up in New Jersey, and met my wife Jyoti in New Jersey. We want him to at least be familiar with it. If not have a sense of ownership, just be familiar with it," he says, adding, "And sport helps build that loyalty and that sense of community for that".
As a hands-on dad, the actor wants to create memories with his son, not establish control. He says, "I'm very careful to not put my opinions too strongly on him. He is only five years old, and I want him to grow up with a sense of his own identity. I want him to find that, which sometimes might get coloured by what we are taught from our parents or elderly people around us".
"The most important thing to me is that we don't control you. He is his own person. We're just here to help support," says the actor, who will soon be seen playing the role of an airforce pilot in Hrithik Roshan and Deepika Padukone starrer Fighter.