Anushka Sharma's faith in humanity is restored with this video of street vendor feeding stray dogs. Watch
Anushka Sharma has shared a video on Instagram which shows a street vendor in Mexico feeding a few stray dogs the last bits of food he has.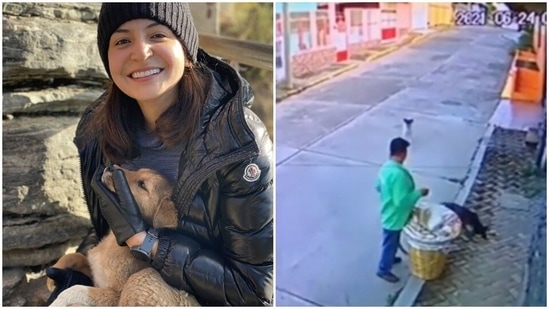 Published on Aug 19, 2021 04:47 PM IST
Anushka Sharma, who is an avid animal lover, has shared a video on her Instagram Stories. She believes it could restore people's faith in humanity.
In the video, a street vendor in Mexico walks down a lonely street during the day. He is carrying food in a large basket on his back. Two stray dogs follow him. The man stops in his tracks, pulls out some food from his basket and feeds the dogs. When another dog approaches him, he feeds the animal too.
+
Sharing the video, Anushka wrote, "Faith in humanity post." She also added a hug emoji. Instagram users also praised the man. "People with a kind heart are sometimes the poorest souls, and yet they won't their life circumstances change the way they treat others. God bless this man," wrote one. "The people who have the least have the biggest hearts," said another user.
Anushka has long been an advocate for animal rights. Recently, her husband Virat Kohli started two animal shelters near Mumbai. He thanked Anushka for inspiring him to take the step. In a statement, Virat had said, "Looking after the welfare of animals is a cause very close to my heart now as Anushka is very passionate about this issue. Her vision to help stray animals across India is truly inspiring for me and since I have met her, I have tried to understand more about animal rights and the urgent need for medical assistance for strays. It is our dream to create a safer space for the stray animals of our city and I'm happy to be taking on this project with Vivaldis and Awaaz, and working with likeminded people to create some facilities to help these animals."
Also read: Shardul Pandit wants Bigg Boss OTT contestants to go to 'Bournvita quiz contest' for age-shaming Shamita Shetty
Anushka also produced a web series, Paatal Lok, which also carried a subplot about loving and caring for dogs. Abhishek Banerjee's line about judging a person's character by a dog's affection for them became instantly popular among fans.
Topics
Close Story