Giorgia Andriani says she admires boyfriend Arbaaz Khan's ex-wife Malaika Arora: 'She also started from zero'
Nov 26, 2022 09:59 PM IST
Giorgia Andriani has opened up about her equation with Malaika Arora, the ex-wife of her boyfriend Arbaaz Khan.
Giorgia Andriani recently spoke about her personal life in a rare departure from her usual rule to keep mum about it. The model-turned-actor opened up about her equation with boyfriend Arbaaz Khan as well as his family, and also how she finds Arbaaz's ex-wife Malaika Arora as someone she admires. Also read: Arbaaz Khan on 'humungous' age difference with girlfriend Giorgia Andriani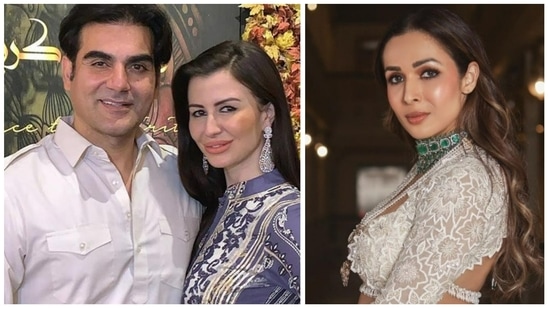 Arbaaz Khan and Giorgia have been dating for almost four years. They were first spotted at a dinner date back in 2018. Before this, Arbaaz was married to model-turned-actor Malaika for almost two decades from 1998-2017. They have a son together--Arhaan.
In an interview with Bollywood Hungama, Giorgia was asked if she has met Malaika Arora and she replied, 'many times'. Opening up about her equation with Malaika, Giorgia said, "I really like her and I appreciate her journey a lot. She also started from zero basically, she was a model so then slowly she reached where she has reached and kudos to her. For me, she's definitely somebody that I do admire."
Arbaaz is the son of veteran screenwriter Salim Khan and the brother of actors Salman Khan and Sohail Khan. The closely-knit family is known to spend a lot of time together. Talking about her meetings with the Khans, Giorgia added, "They are amazing people and they're so open as well and embracing. I would say so it's been an amazing experience."
Giorgia and Arbaaz have a 22-year age gap, which has often become a subject of ridicule and trolling. Recently, Arbaaz addressed it in an interview. "There's a humongous age difference between us, but neither of us has felt it. I ask her sometimes, 'really?' It could have been a brief and short-term affair. But when you get into a relationship, you don't look too far ahead, but the longer you're in it, there are more questions that need to be answered… I think we are in that phase of our lives thinking how we would like to take it further. It is too early to talk for me right now," he told Siddharth Kannan.