Milind Soman makes paps do push ups before clicking his pics, they react 'aaj paseena niklega'. Watch hilarious video
Jan 05, 2023 07:45 PM IST
Milind Soman made media people do push ups twenty times before posing for them. The actor took away their cameras and clicked them instead.
Actor-model Milind Soman is known for his fitness. On Thursday, he was spotted by paparazzi and it turns out he made them do push-ups before clicking his photos. In fact, the actor held their cameras and went on to capture the moment when the camerapersons attempted to finish the given task. (Also read: Milind Soman promotes special dishwashing gel 'for men')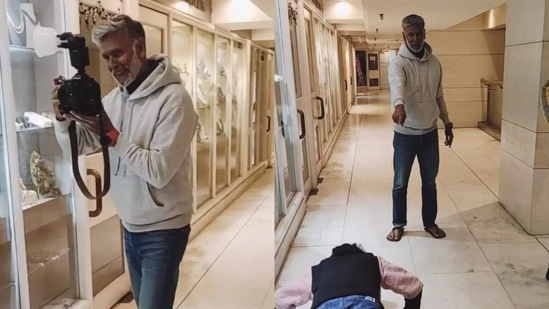 In a video, Milind is seen holding a camera and urging others to do push-ups twenty times. He wore a grey hoodie and denim jeans. He sported a silver fox look as he counted repetitions of the push-ups. He also caught one of the paps cheating and told him, "Yeh cheating hain (This is cheating)."
One of the media people is heard saying, "Aaj paseena niklega tera (Today you are going to sweat it out)." "Aaj sara pet andar ho jayega," added another one. In the end, Milind also clicked pictures of them using their camera.
Reacting to the hilarious banter, fans took to the comment section of the paparazzi post and dropped laughing emojis. This is not the first time that Milind has asked people to do push-ups in order to get his pictures.
Earlier, he had made one of his fans do push-ups before they clicked a selfie together. He had said that "it helps" them to become fitter and stronger. He shared a photo and said, "Want the world to be a better place? Start doing random acts of kindness :) making people do pushups for selfies may not automatically qualify, but I think it helps, and its a start!!!!! #IwillDoMore. Do small, simple things that you are happy to do, be fully engaged in doing it and you will discover the true joy in giving! When you offer to get groceries for your elderly neighbour, or just make a call to a colleague or your household help to check how they are coping at home.. you begin to understand people and become more engaged in helping the world cope with the situation."
Milind keeps his fans motivated with his regular fitness-related pictures and videos on his Instagram account. His wife, Ankita Konwar, is also a runner and is often seen joining him for runs, marathons and fitness workouts at home.
Milind Soman will be next seen in Anshuman Jha's Lakadbaggha. It will release in theatres on January 13 and will clash with Arjun Kapoor and Tabu's Kuttey. Besides this, Milind has Kangana Ranaut's Emergency in the pipeline.