Mission Majnu trailer: Sidharth Malhotra goes undercover for a dangerous job across the border
Jan 09, 2023 05:53 PM IST
Mission Majnu trailer: The upcoming Netflix film, starring Sidharth Malhotra and Rashmika Mandanna, features a spy going undercover to infiltrate Pakistan's nuclear program. The period film, directed by Shantanu Bagchi, lacks the drama required for a story such as this.
In the upcoming Mission Majnu, Sidharth Malhotra is tasked with infiltrating Pakistan's nuclear program. He plays a Research and Analysis Wing (RAW) agent Amandeep Singh who must go undercover to find out secrets that could help India get an edge over Pakistan. The new trailer of the Netflix trailer shows the lengths to which his character must go through to finish his assignment. (Also read: Mission Majnu teaser: Sidharth Malhotra is a spy who doesn't like using guns, flies off trains for 'desh ki hifaazat')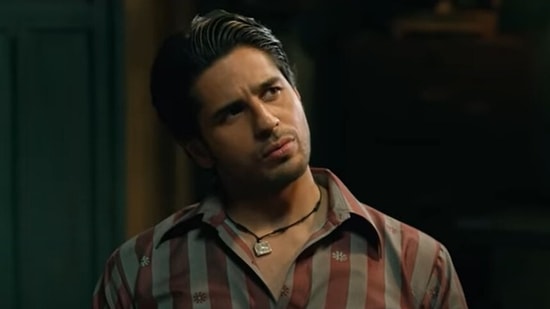 The trailer of the film was released on Monday by Netflix. They captioned the trailer's post, "Jo khud se pehle desh ke baare mein soche, wahi hain #DeshKeLiyeMajnu (Those who think of the nation first ahead of themselves, they are the ones who are crazy for their country) Watch Mission Majnu, a spy thriller inspired by true events. Arrives on 20th January, only on Netflix."
Directed by Shantanu Bagchi, Mission Majnu is based on true events from the 1970s. The trailer opens with a character played Parmeet Sethi insisting to India's prime minister the urgency to locate the nuclear facility in Pakistan. He suggests using an undercover agent to gather intelligence. Sidharth plays the 'simple' tailor who moves in and out of key places to report back to India. The title of this crucial undertaking is 'Mission Majnu'.
Rashmika Mandanna also stars in the film as Sidharth's wife, who is part of his cover story as his wife. It seems that his character gets a bit too comfortable while undercover. The trailer also explores the physical lengths he has to go to find the facility, including giving up his life for the important information.
Written by Sumit Batheja, Parveez Shaikh, Aseem Arrora, Mission Majnu also stars Kumud Mishra and Sharib Hashmi. Rashmika and Sidharth are paired to together for the first time in this period drama. The stunts and action in the second half feel a bit over the top while the rest of the feature of uncovering the facility doesn't seem to have the necessary drama required for a high-stakes story such as this. Mission Majnu will premiere on Netflix on January 20, 2023.
In 2020, when the film was first announced, producer Ronnie Screwvala had earlier shared, "There are 1000s of heroes who work behind the scenes to safeguard the interest of our country from other terror units and rogue nations. Their work often goes unnoticed and Mission Majnu is an attempt to bring their sacrifices and efforts to the forefront. Mission Majnu is a thrilling tale about one of the most daring and audacious operations in the history of RAW."