Pathaan gets UA certificates after these 10 cuts
Jan 05, 2023 12:05 PM IST
A new report details the cuts suggested by the Central Board of Film Certificate (CBFC) for Shah Rukh Khan and Deepika Padukone's new film Pathaan. The film bagged UA certificate.
As Shah Rukh Khan gears up for the release of his new film, Pathan, the Central Board of Film Certification awarded the film a UA certificate following ten cuts that were made upon suggestions from the CBFC. These include removal of lead actor Deepika Padukone's close-up shots and a few changes in the dialogues. (Also read: Check out Shah Rukh Khan's snarkiest, wittiest replies from AskSRK session)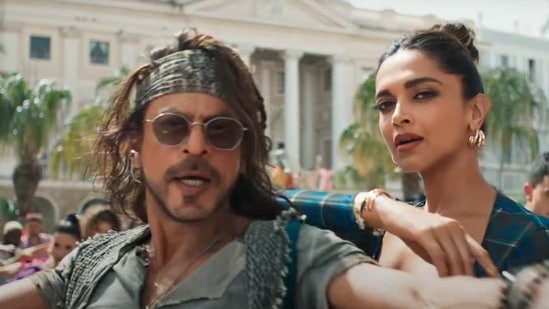 Directed by Sidharth Malhotra, Pathaan also stars John Abraham alongside Deepika and Shah Rukh. The film is set for a release on January 25.
At least three changes have made to the controversial song Besharam Rang - close-up shots of "buttocks, side-pose and sensuous dance movements during the lyrics Bahut Tang Kiya" have been removed. A Bollywood Hungama report shared details of the ten cuts suggested by CBFC, that have been incorporated in the final cut for theatrical release of Pathaan. The report added that the certificate does not mention whether the saffron outfit, that has been the centre of controveries around and protests against the film, was removed or changed.
The word 'RAW' was replaced with 'Hamare' and 'Langde Lulle' was removed and replaced with 'Toote Foote'. The word 'PMO' was removed and the word 'PM' was replaced with either President or Minister at in 13 different places. The word Mrs Bharatmata was changed to Hamari Bharatmata and 'Ashok Chakra' was changed to Veer Puraskar. The word KGB was replaced with SBU. In one of the dialogues, the word sotch was changed to drink and a reference to Russia was also removed.
A picture of the CBFC certificate detailing the cuts is also doing the rounds online. However, Hindustan Times could not verify its authenticity.
Meanwhile, protesters tore down posters of Pathaan in Ahmedabad. In a video shared by the Bajrang Dal Gujarat on Twitter, people were seen shouting slogans as they tore posters and even huge cut-outs of Pathaan's star cast. The incident took place at Alpha One mall in Vastrapur, Ahmedabad where members of Bajrang Dal created a ruckus.