Shah Rukh Khan says Deepika Padukone has the sexiest fight scene in Pathaan: 'Main bolta aur maar aur maar'
Feb 06, 2023 01:04 PM IST
Shah Rukh Khan said that Deepika Padukone had 'the sexiest fight scene' in Pathaan. He said that when she beat up a bad guy, he had wanted to be in his place. The actor added if it were him, he would have wanted Deepika to hit him more.
While Deepika Padukone has done action roles in films such as Chandni Chowk to China (2009) and XXX: Return of Xander Cage (2017), in Pathaan she plays a Pakistani spy Rubai, who is just as comfortable beating up the villains as her male co-stars. Shah Rukh Khan recently shared that Deepika had 'the sexiest fight scene' in the film. He was speaking about the moment when Deepika beats up a bad guy; Shah Rukh added he wished to be in that man's place. The actor added if it were him, he would have wanted Deepika to hit him more. (Also read: Shah Rukh Khan, Salman Khan talk about coming together in that hit Pathaan scene: 'I missed being on screen with him')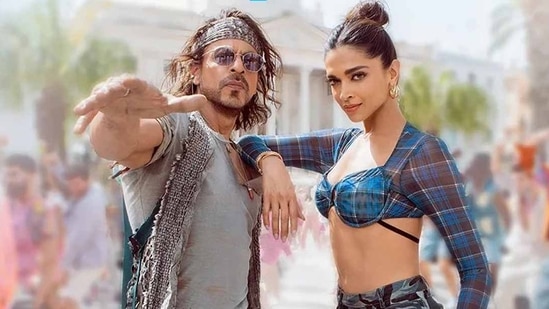 Deepika made her acting debut opposite Shah Rukh Khan in Om Shanti Om in 2007. They teamed up to work again in Rohit Shetty's Chennai Express (2013) and Happy New Year (2014) with director Farah Khan once again. Pathaan is the fourth time they have worked together.
At an event to celebrate the success of the film, Shah Rukh had stated how he found a scene in the film, where she displays her action prowess as the 'sexiest fight scene' from the film. He explained, "Many people have seen it and woh trailer mein bhi hai, ek admi se lipatkar, ghoomakar, usko neeche girake, uspe chadkar usko maarti hai... mere saath aisa karle... itna pyaar hai uske andar... I'm toh jealous of that guy ki yaar itne kareeb se itni khoobsurati aur uske upper baitkar... main bolta 'aur maar aur maar' (Many people have seen it already and it's also in the trailer where [Deepika in the action scene], jumps onto someone, flips him, drops him to the floor and hits him, I wish she did that with me. I'm jealous of that guy for being so close to someone so beautiful. If it were me, I would have said 'hit me more, hit me more'.)"
He added, "If I may say so, I think it's one of the sexiest action scenes that I have seen." Directed by Siddharth Anand, Pathaan also stars John Abraham as the antagonist along with Shah Rukh, Deepika, Dimple Kapdia and Ashutosh Rana. The action thriller has broken several box office records and has grossed over ₹700 crore worldwide in its second week.