Sharmila Tagore, Soha Ali Khan, Inaaya visit Mansoor Ali Khan's grave on birth anniversary: 'People you love never die'
Jan 05, 2023 02:20 PM IST
Soha Ali Khan shared pictures from a visit to her father Mansoor Ali Khan Pataudi's grave on his birth anniversary. Her mother Sharmila Tagore and daughter Inaaya also accompanied her.
On late legendary cricketer Mansoor Ali Khan Pataudi's 82nd birth anniversary, his daughters Soha Ali Khan and Saba Ali Khan paid tributes to him on their social media. Soha paid visit to Mansoor's grave with actor-mother Sharmila Tagore and daughter Inaaya Naumi Kemmu. Saba posted a series of pictures of her father with Sharmila, and glimpses of him in cricket jersey. She called him 'abba.' Many fans reacted to Soha and Saba's special posts for their father. (Also read: Soha Ali Khan remembers dad Mansoor Ali Khan Pataudi on death anniversary with his old video on life without father)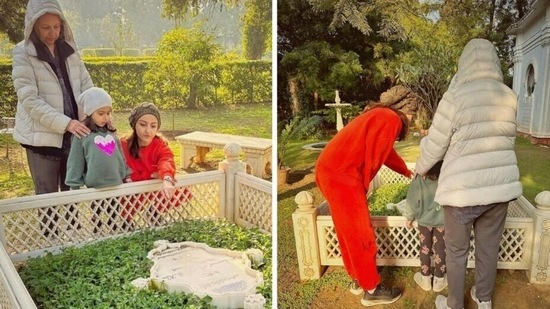 Mansoor Ali is buried at his ancestral home, Pataudi Palace. In the pictures, Sharmila wore a white jacket with pair of pants and white shoes. Her daughter Soha was seen in red woollen sweater and pair of pants. She covered her head with a brown cap. She kept her hair loose and wore black shoes. Soha's daughter Inaaya wore a green sweater with a heart print on it. Three of them stood at the grave site and paid their tributes to Mansoor. The grave was surrounded by greenery.
Sharing the pictures on Instagram, Soha wrote, "The people you love never die (red heart and infinity emojis) 5.1.41." Reacting to the post, one of Mansoor's fans wrote, "He lives in our hearts forever." Another fan commented, "The Great Man-A Man to be respected-RIP." One of Soha's fans commented, "Absolutely…father's love (red heart emoji)." Many fans dropped heart emojis on the post.
Saba shared a video comprising black and white pictures of father Mansoor's during his cricket days. The clip also gave a glimpse of mother Sharmila with him. Both of them were all smiles while posing for the camera. Sharing the video on Instagram Reels, Saba wrote, "Happy birthday Abba…You are missed. Loved..Remebered..Today and forever..You are always with me..in spirit..I can still count on you." She used 'mansur ali khan', 'january', '5th', '1941' among other hashtags on the post. On person commented, "Most handsome and dignified sportsperson our century has ever had."
Mansoor Ali Khan Pataudi, who is fondly called Tiger, died at the age of 70 in 2011 after battling a lung infection. He was regarded as one of the finest captains of the Indian cricket team. He played in 46 Test matches for India between 1961 and 1975, and was captain in 40 of them.
He got married to Sharmila Tagore in 1966. They have three children together - Saif Ali Khan, Saba Ali Khan, and Soha Ali Khan. While Saif and Soha took to their mother's profession and became actors, Saba is a jewelry designer. Saif is married to Kareena Kapoor and Soha is married to Kunal Kemmu.