Shehnaaz Gill gets scared while riding a camel, screams 'Amma, Mama'; fans call her 'so cute'. Watch
Jan 13, 2023 12:24 PM IST
Shehnaaz Gill shared a throwback video on Instagram. For shooting Ghani Syaani song, she rode a camel. Her expressions in the clip were leaving fans in splits.
Shehnaaz Gill took to Instagram and treated her fans to a behind-the-scene clip from her recent song, Ghani Syaani. The song featured MTV Hustle 2.0 winner MC Square along with her. The music video received loads of love from their fans. In the throwback video, Shehnaaz can be seen scared as she sat on a camel. On her camel ride, she also screamed 'Mama, Amma (Mom, mother)' as the camel started groaning. This reaction of hers left her fans in splits and they dropped messages on her video. (Also read: Shehnaaz Gill gets scared seeing pet lion in a room, screams 'Waheguru, Waheguru'; fans call her 'too cute'. Watch)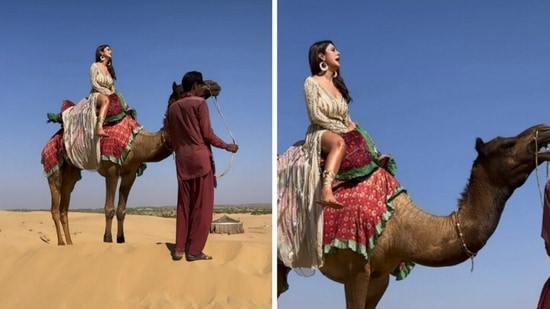 In the post, Shehnaaz shared a video of herself from the sets of Ghani Syaani song. The song was filmed in a desert. In the clip, she can be seen sitting on a camel. She sported a stylish off white glittery dress. A petrified Shehnaaz can be heard saying, "Mama, Amma (Mother, mom)" as camel started making loud sounds. The camel herder took charge of the camel and tried to calm it down. She started screaming loudly, "Mama, mama" when the camel started moving backwards.
Sharing her camel video on Instagram, Shehnaaz wrote, "Jaan hai toh jahan hai …. main dar gyi thi (If you have life, you have the world, I got so scared)." YouTuber Yashraj Mukhate dropped laughing emojis. Actor Pinky commented, "Because camels are large animals, riding them – or indeed, just climbing onto one – requires their cooperation. They also tend to make their discomfort known. Camels are never afraid to speak up if they're not comfortable…. Anyway you look good."
Reacting to the clip, one of Shehnaaz's fans wrote, "Mai toh gir hi jaati darr se (I would have fallen because of camel)." Another fan commented, "Oh god, I can't stop laughing, Sana you are damn cute sachhi (seriously)." Other fan wrote, "Mother is the only thing we remember in times of fear." "Shehnaaz aur camel dono darr se chilla rahe hai, pata nhi kon kisse darr raha hai (Both camel and Shehnaaz are screaming, we cannot decide who is scared of whom)", added one. A fan wrote, "Amma (laughing emoji). I was missing this version of Shehnaaz Gill, lots of love my baby."
In the Ghani Sayani music video, Shehnaaz rapped in Haryanvi accent and showed off her dance moves. The song is directed by Agam Mann and Azeem Mann and sung by Shehnaaz and MC Square.
Shehnaaz recently launched her celebrity chat show, Desi Vibes With Shehnaaz Gill. She is set to make her Bollywood debut with Salman Khan's film Kisi Ka Bhai Kisi Ki Jaan. The film is set to be released in 2023 on Eid.
Topics