This bonkers clip from 1999 film has gone viral, Twitter plans cringewatch night
Aug 19, 2021 07:27 PM IST
A clip from 1999 Bollywood film Mother has gone viral on social media. Multiple people are expressing their shock at the writing, the dialogue, the outfits and the actors' performance.
Twitter has landed on a clip from the 1999 Hindi movie Mother and cannot get enough of it. The film was a remake of the Broadway musical Mamma Mia, starring Rekha with Rakesh Roshan, Jeetendra and Randhir Kapoor. However, the clip which has gone viral features none of them.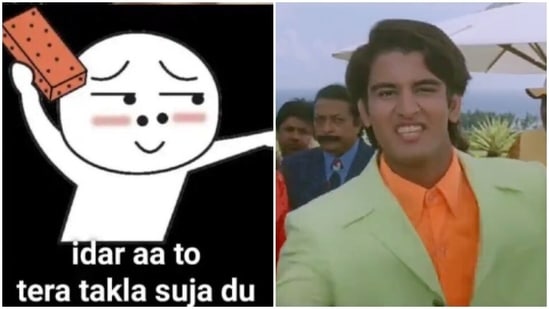 In the video, actor Rahat Khan, plays Raj, a seemingly gullible boy who is told by his mother and grandmother (played by Shashikala) to dump his girlfriend Jiya (played by Sanober Kabir) because she belongs to a lower class than them. The dialogue is the farthest thing from believable. Characters say the word 'class' almost three dozen times in less than two minutes and no one seems to have ever seen a human interaction before.
Also read: The Eternals: Harish Patel gets billing in new poster with Angelina Jolie, Kit Harington and others
The women tell Raj to invite Jiya to a party, shame her in front of everyone so she would never dream of joining their family again. He does the same and Jiya decides to storm off, unwilling to put up with the rudeness. However, Raj pulls a surprise at the very end.
People on Twitter are having a field day making memes and cracking jokes at the scene. "Oscar-winning acting. Not watching it alone," wrote one. "Some people said that this clip wasted their 2 mins of life. It happened to me too. But then I thought I should waste everyone's time. What if everyone gets two minutes ahead of me in life?" Another commented, "Hahahahahaa. The acting, the clothes, the script... now that's CLASS."
Many were so intrigued by the clip, they have decided to watch the entire movie. "Now I want to see what happened next," wrote one. "How can you leave us curious like that? Mujhe agla episode dekhna hai abhi (I want to watch the next episode now)," wrote another.
Mother was produced and directed by Saawan Kumar. It starred Rekha as a woman who once had affairs with three men and has to face them again when her daughter decides to get married.