Vikram Gokhale dies at 77: Co-stars remember him
Nov 26, 2022 06:29 PM IST
Veteran actor Vikram Gokhale had been on a ventilator support system for some time before he breathed his last. Read the entire report.
Vikram Gokhale, a towering personality in Indian theatre and cinema, died on November 26 afternoon, after days of being hospitalised. Daily health bulletins were being followed closely by his fans and the industry, and until yesterday, his health was said to be improving slowly but steadily by the hospital authorities. He had been on a ventilator support system for some time before he breathed his last.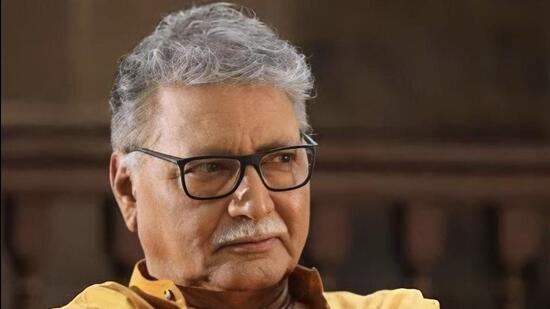 Born in Poona in 1947 to Chandrakant Gokhale, who was himself a theatre and film actor, his great grandmother was Durgabai Kamat, credited for being the first female actor in Indian cinema. After working in Marathi theatre productions, Gokhale made his film debut in 1971, with Amitabh Bachchan's film Parwana, and went on to star in hits such as Hum Dil De Chuke Sanam (1999), which remains his most popular film, Bhool Bhulaiyaa (2007), De Dana Dan (2009), and more recently, Mission Mangal (2019) and Nikamma. A man of many talents, he also donned the director's hat in 2010 for the Marathi film Aaghaat.
In 2013, his Marathi film Anumati fetched him the National Film Award in the Best Actor category. While he retired from stage work in 2016 due to a throat ailment, he continued working in films, and last filmed for filmmaker Sabbir Khan's upcoming film.
Ramesh Damle a close friend of the family adds, "We are taking him to Bal Gandharva for people to take the Darshan. The last rites will take place at Vaikunth.*
Shirish Yadkikar, from Deenanath Hospital, Pune confirmed the reports, "He passed away at around 2pm. It was due to multiple organ failure."
Soon Gokhale's co-stars started sharing their tributes:
Smita Jaykar:
I had worked with Vikram ji since the beginning of my career. We did projects in Hindi, Marathi and it was always a pleasure working with him. He was a very good friend to me and an amazing human being. I know that someday each one has to leave the world, but this one feels like a big loss to me. I remember meeting him almost 2 months back at a wedding in Pune. It was me, his wife and him. He did not look very healthy even then but I did not know that he would leave us like that within 2 months.
Neena Kulkarni
I've lost a very good friend. I've known him for many years. I've worked in Hindi Marathi and all films. I've done all kinds of roles with him. I've played his wife, girlfriend sister and in our last film I played his daughter in law. He lived life King size. You would not get an actor like him. He has an opinion about things. I'm yet to meet an actor as alive as him. He was without fear. The fearlessness of Vikram Gokhale is what I'll take from his life. He was my friend and a wonderful human. There was never a film where he didn't leave a mark. He is a school of acting. You are mesmerised with him. He was a good actor, I'll miss him. For the entire Marathi industry losing Vikram Gokhale is a personal loss.
Subodh Bhave
I have so many memories with him. My first commercial play that I watched as an audience when I was in school was Vikram Ji's play. I was zapped by his performance, that was the very first play I watched because it got me into acting. I can never forget his acting skills on stage, even after so many years.
There was no actor who could do what he could. I've been fortunate enough to work with him in a few films. But I've always been inspired by his work and passion. After Dr Lagoo if there's anyone who has left such an impact on our generation, it's Mr Gokhale. Of course it's sad that I won't be able to meet him, or work with him. But he was a Zinda dil aadmi. He was always energetic. I've never seen him lost or silent. That's the image I've of him. He was like my father, as he has played my father on screen. He is also like the father of the industry as everyone wishes to be like him. He is alive for me even today. I'm certain that wherever he is, he will be talking to God, passionately about plays.
Sai Tamhankar
I really don't know what to say, as I'm not in the right state to talk. It's a huge loss. I've still not come to terms with this. He was a huge name and generations have craved to work with him. There can be no one like him.
Dalip Tahil
He was a wonderful human being and a very humble and generous man. I have worked with him in several films. It's a huge loss for the industry. I am really sad that he has left us. My deepest condolences to his family. He contributed a lot to the film industry in a very quiet way. His contributions were memorable and remarkable and I really respect him for always maintaining a low profile yet doing just great work. I did Mission Mangal and several other films with him. We had conversations about several prevailing issues including the one where government advisory stated that people above the age of 60 cannot work as part of COVID-19 precautions. He was very influential in getting those very bizarre decisions reversed.
Shilpa Shetty Kundra
I am very sad to hear the news about Vikram Gokhale ji. He was a fantastic actor, and a thorough professional. I worked with him in Nikamma, and he had a great memory even at this age. He remembered the entire scene and did the whole monologue in just one shot.
Ameesha Patel:
The most it's said about Vikram Gokhle, the less it is. He was one of the most phenomenal actors. I had the privilege of working with him in Bhool Bhulaiyya and he was so mind blowing. He was a huge reason why the film was so convincing and successful. H was a powerhouse professional. Being on a set with him, I got to learn a lot. He moulded into every role with complete conviction. And I consider it as my good fortune that in my career, I got to work with a stalwart like him. He leaves a huge void in the industry. It's definitely a huge loss. My heartfelt condolences to the family.
Inputs by Syeda Eba Fatima, Rishabh Suri, and Vinay MR Mishra.