Virat Kohli opens up about not being fair to Anushka Sharma during bad spell: 'I was very cranky, snappy...'
Jan 13, 2023 05:52 PM IST
Virat Kohli in a new interview admitted that he was frustrated and cranky during the lull in his career. It made him unfair towards his wife Anushka Sharma and loved ones.
Virat Kohli recently recalled his bad spell in cricket and admitted that he wasn't fair to his wife-actor Anushka Sharma during his low phase. He said frustration was creeping in his life which made him 'very cranky and snappy.' He also added that he was in denial about his 'vulnerabilities.' Also read: Anushka Sharma and Virat Kohli play with daughter Vamika on beach in unseen pic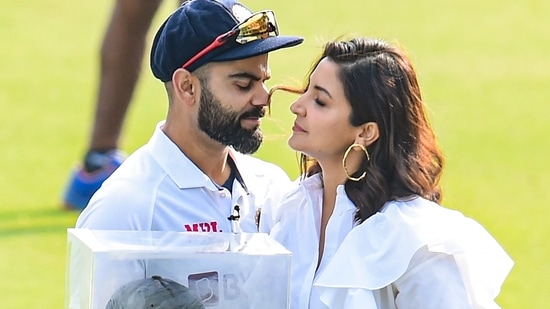 On Tuesday, Virat Kohli landed a century in the 1st ODI of the series against Sri Lanka. He scored 113 off just 87 deliveries and India eventually won by 67-run. With this, he has 73 international hundreds with the last three coming in during a period of four months, after near three years of lull.
Virat Kohli recently told Suryakumar Yadav in an interview for bcci.tv, "In my case, in denial, frustration was creeping in. I was very cranky, very snappy in my space. It was not fair on (wife) Anushka (Sharma), my closed ones, its not fair on the people who support you. So I had to take responsibility and kind of put things in perspective."
"I was far off from my cricket. My attachments, my desire, had totally taken over. That's when I realised that I can't be away from who I am. I have to be true to myself. Even when I am vulnerable, I am not playing well, I am the worst player around, I have to accept it. I can't be in denial," Kohli added and asserted the need to be away from his primary passion, cricket, to rekindle it once again.
Virat and Anushka Sharma tied the knot in Italy on December 11, 2017, after years of dating. The two met on the sets of a video advertisement and rest is history. The couple is blessed with a baby girl, Vamika who recently turned two-years-old.
On Vamika' birthday, Virat posted a picture with his daughter and captioned it, "My heartbeat is 2." In the photo, Virat flashed his biggest smile while playing with Vamika. the father-daughter duo were lying down on grass. On the other hand, Anushka too shared a photo of Vamika, playing with her in a similar park-like area. Her post read, "Two years ago my heart grew wide open."