BTS: Indian ARMY celebrates Jungkook's birthday by covering bus stands in Mumbai with singer's pics, see here
Sep 01, 2021 05:16 PM IST
BTS fans in India rented billboards in Mumbai and erected posters of Jungkook on his birthday. See the pictures here.
BTS member Jungkook celebrated his 24th birthday (international age, he's 25 according to Korean culture) on Wednesday with a mini-concert. A group of Indian BTS fans have rented out billboards in Mumbai and covered it with pictures of the singer.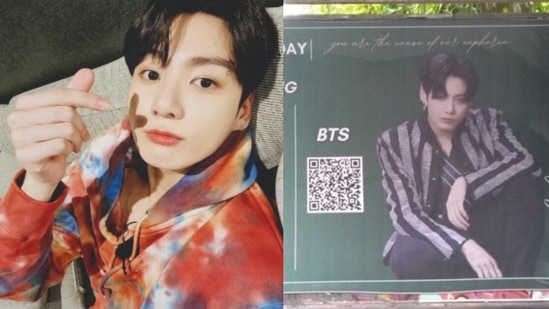 A fan shared pictures of a bus stands in Mulund, featuring pictures of Jungkook. One of them listed the multiple talents he has. Another billboard featured a picture of Jungkook along with QR codes of the songs he's sung - Euphoria, Still With You, Begin, My Time. The posters were shared with the common message: "Happy Jungkook Day" and "You are the cause of our euphoria."
Internationally as well, fans have been going all out to celebrate Jungkook's birthday. In Seoul, a giant Jungkook doll along with a cake has been erected at Han River E-land theme park. A group of BTS fans in Russia adopted a sea otter and a few fans in Malaysia adopted a tiger.
Jungkook began his birthday by interacting with fans. The singer hosted a Vlive session on Tuesday night and composed a song for the ARMY. When the clock struck 12, his fellow BTS member J-Hope surprised him by gate-crashing his live session and sang the happy birthday song. Soon after, Jungkook turned the live session into a mini-concert, jamming to numerous hit BTS songs.
Also read: BTS: Jungkook rings in his birthday by composing a new song and hosting mini-concert for million fans. Watch
On the occasion of his birthday, BTS leader RM took to Twitter and shared pictures with the singer along with a message. "#KookieHBD - the principal," he tweeted, referring to Jungkook's comment about RM speaking like principal at their concert. Suga said, "15 years old Jungkook becomes 25years old Jungkook now Happy birthday JK~ #JungkookHBD #ItsSugahyung #YouAreAnAdult #TimeIsHu." Jin, on Weverse, said, "Jungkook-ah, I know you're doing Vlive now.. but it's never ending so i'm posting this and going to sleep, happy birthday to you!"