BTS' Jimin carries a giggling Jungkook in his arms, tells J-Hope that Jin 'isn't for sale' as he sits in cart. Watch
Published on Jul 25, 2022 06:42 PM IST
BTS: Bangtan TV gave a glimpse of RM, Jin, Suga, J-Hope, Jimin, V and Jungkook from their concerts and other events recently. Check out the behind-the-scenes video.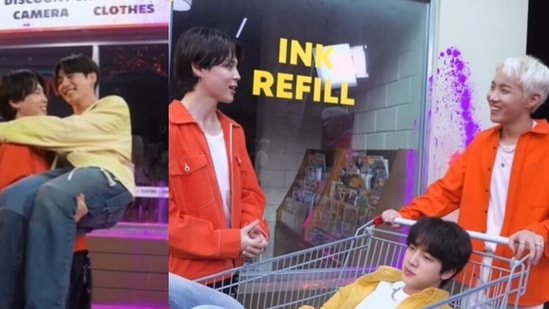 BTS members RM, Jin, Suga, J-Hope, Jimin, V and Jungkook goofed around and teased each other in a new behind-the-scenes video. Taking to its YouTube channel, Bangtan TV shared a video of the members during their Butter and Permission to Dance music video shoots, concerts, at the Grammy Awards this year, and their address at the United Nations. (Also Read | BTS' Jin reacts as RM, J-Hope, Jimin and Jungkook photobomb him)
The video started with the BTS members wishing ARMY, the group's fandom, a 'happy new year'. Next, Jungkook played the drum as V told him, "Kick, let's go." Jungkook replied, "This is the kick." At his reply, J-Hope and Jimin who were standing nearby burst out laughing.
The members were next seen holding a cake after the winner was announced at the Grammy Awards last year. After BTS didn't win the award, V aka Kim Taehyung called his father and said, "Dad, say something." Jimin screamed 'dad, dad'.
During the music video shoot of Butter, the members played with Jimin as Suga performed in front of them. In another segment, Suga danced on stage making a face. The video continued showing the members' performances and photoshoots.
The clip also gave a glimpse of RM, surrounded by other members, speaking at the UN. Later, they grooved as several people shouted 'BTS' outside the UN. In another part of the video, Jin sat inside a shopping cart held by J-Hope and Jimin told him, "This isn't for sale." Jungkook giggled as Jimin carried him in his arms in one of the scenes.
After performing in a show, Jungkook told Jimin, "It's such a shame that ARMY isn't here." The video ended with glimpses of the BTS concerts held earlier this year in Seoul and Las Vegas. The clip was shared with the caption, "'BTS memories of 2021' SPOT."
Personalise your news feed. Follow trending topics