Jungkook turns 'desi guy', dances to Brahmastra's Kesariya in fan edit of Dreamers; BTS ARMY says: 'That's so perfect'
Updated on Nov 26, 2022 02:27 PM IST
Jungkook grooved to Alia Bhatt and Ranbir Kapoor's Brahmastra song Kesariya. In a fan-edited video, the BTS singer's music video for Dreamers was set to the music of Kesariya.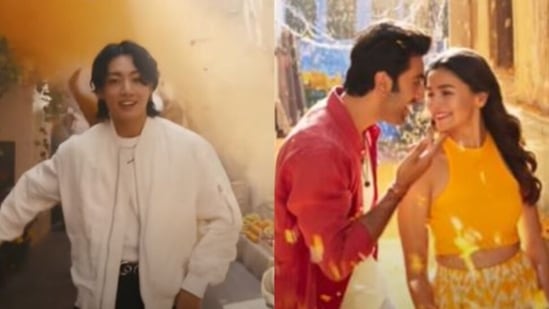 Jungkook, the youngest member of BTS, has become a 'desi guy' as he danced to the Brahmastra song Kesariya. In a new fan-edited video, Jungkook grooved to the song originally picturised on actors Alia Bhatt and Ranbir Kapoor. The fan shared the edited clip on Instagram, in which Jungkook's original track for the FIFA World Cup was replaced by Kesariya. (Also Read | Jungkook dances atop skyscraper, shares message of peace in music video of FIFA World Cup anthem Dreamers)
Jungkook, in the clip, walked through a market as yellow colour was thrown in the air behind him. In Kesariya, Alia and Ranbir Kapoor dance to the track in a marketplace as well with marigold flower petals being showered on them. Sharing the video, the Instagram user wrote, "I know there's no sync but the vibe matched so much with the song!! Thanks to @hasnaingasm and @preethy.i who made me notice this!"
Reacting to the clip, excited BTS fans posted comments finding similarities. A person wrote, "I felt the same vibe when I saw Dreamer music video. Kesariya came to my mind at that moment." Another Instagram user said, "Desi guy from BTS Jungkook." "The walking through the market thing... gave me soo much Kesariya vibes," read a comment.
"I can't unsee it now. How does it match correctly?" asked a person. "And who's idea is that? Not good for my health," said a fan. "I was also wondering when I would see this edited version," wrote another person. "That's so perfect," commented a fan. An Instagram user suggested, "Next edit idea: Kesariya video with Dreamers audio."
Jungkook recently travelled to Qatar to film the music video of Dreamers ahead of the 2022 FIFA World Cup. Several pictures and videos of the singer performing on the streets of a city in Qatar then emerged online. Jungkook also performed Dreamers at the opening ceremony of the world cup. Recently, the Crown Prince of Jordan, Hussein bin Abdullah II, posted a clip on his Instagram of Jungkook performing at the event.