Lollapalooza India Day 1 recap: Imagine Dragons' lead goes shirtless, waves Indian flag, AP Dhillon wins hearts
Jan 29, 2023 02:31 PM IST
Iconic music festival Lollapalooza breached a new frontier in the eighth destination of the festival in Mumbai, India. The the inaugural, first-ever edition in Asia, witnessed electrifying performances by Imagine Dragons, Greta Van Fleet, topped with 'grammable moments .
The annual American music festival, Lollapalooza marked its debut in India on Saturday. Held at Mumbai's Mahalaxmi Racecourse, the two-day event is believed to have entertained over 60,000 music lovers. Featuring over 40 artistes across four stages, day one of Lollapalooza India 2023 saw acts by music outfits Easy Wanderlings, Bloodywood, Kumail, Sandunes and more. The highlights of the show, however, were performances by world-leading musicians AP Dhillon and Imagine Dragons.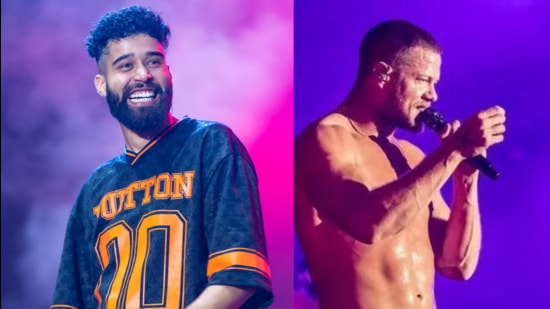 While the first 30 minutes of the Punjabi singer's hour-long act were quite a damper with his low energy and lip syncing being quite evident, the Brown Munde singer rocked the second half by belting out his chart-topping hits such as Summer High, Dil Nu, Woh Noor, Excuses and more. During his performance, he also engaged with the audience. The singer got off the stage to greet his fans and also threw the ukulele towards the crowd.
Imagine Dragons, the American pop rock band, wrapped up the first day of the festival. This was the band's maiden performance in the country. Lead singer Dan Reynolds greeted the fans with a namaste and said, "This is the first of many shows."
The band performed their iconic songs such as Radioactive, Bad Liar, Believer, Enemy, Thunder and more. In the midst of the performance, Reynolds went shirtless. He jumped into the crowd multiple times. Reynolds also borrowed the Indian tricolour from a fam and waved it during his act.
He shared his gratitude towards the audience members. "You people have been nice and kind. Your food is amazing. Thank you for receiving me with such kindness. What a pleasure it has been to be here today."
Interestingly, there was some Bollywood flavour to the fest too. While actor Rajkummar Rao was seen cheering for Imagine Dragons, actor Hrithik Roshan made a quick presence for his girlfriend, singer Saba Azad's gig.