Johnny Depp features in Paul McCartney's Glastonbury performance, fans not pleased: 'Deeply disappointed'
Published on Jun 27, 2022 10:43 AM IST
Paul McCartney's performance at Glastonbury festival was criticised for using a clip featuring actor Johnny Depp, who has been in news for his defamation trial against ex-wife Amber Heard.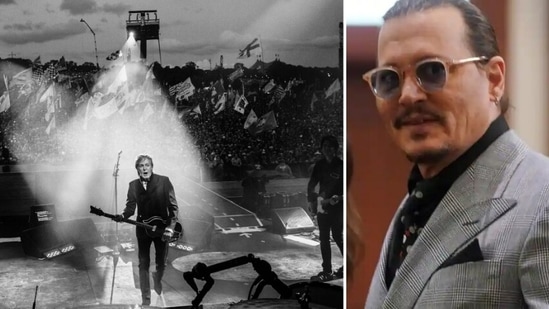 Paul McCartney's latest performance attracted criticism for playing a video of actor Johnny Depp. The singer and musician played at the Glastonbury festival on Saturday, where he also performed his 2012 song, My Valentine. During his performance, the song's music video with Johnny and actor Natalie Portman played in the background. Many on social media reacted to Paul using Johnny's footage at his gig, with some expressing 'deep disappointment' in the legendary singer. Read more: Amber Heard to pay Johnny Depp $10.35m, he needs to give her $2m post defamation trial
Johnny Depp has been in news because of his defamation trial against his ex-wife Amber Heard. As per reports, Paul also used the footage from the music video featuring Johnny, during his other recent concerts. In the black-and-white video, Johnny is seen playing the guitar. Many viewers and social media users said it was not the 'cleverest' thing to do, as people were still divided over the outcome of Johnny and Amber's defamation trial.
Reacting to Paul playing Johnny's clip at his latest concert, a Twitter user wrote, "Not the cleverest thing to do. Paul – such a contentious judgement and a great way to alienate those who are not comfortable with the trial outcome." Another person wrote about the performance, which Paul dedicated to his wife Nancy Shevell, who was in the crowd, "Depp singing to McCartney's love song to his wife feels a bit off key." One person also tweeted, "Deeply disappointed in both Paul McCartney and Glastonbury for the Johnny Depp video. Feel like it goes against everything Glastonbury stands for."
Meanwhile, some supported Paul for his choice to use Johnny's clip. One person tweeted, "To see Paul McCartney showing support for Johnny Depp at Glastonbury was brilliant. Well done to everyone involved."
Johnny had sued Amber for $50 million claiming she defamed him, when she called herself a victim of domestic abuse in a Washington Post essay she wrote in 2018. She counter-sued him for $100 million. The written order for Amber to pay Johnny $10.35 million in their defamation trial was passed on Saturday, days after the verdict was announced on June 1. Johnny was also asked to pay Amber $2 million.
Personalise your news feed. Follow trending topics