RM to hold Indigo performance with fans but minors can't attend, BTS ARMY asks: 'Namjoon going to rip his shirt off?'
Published on Nov 23, 2022 04:16 PM IST
BTS: RM will hold a performance for his first solo album Indigo with 200 fans. However, minors can't attend it. Here's how BTS ARMY has reacted.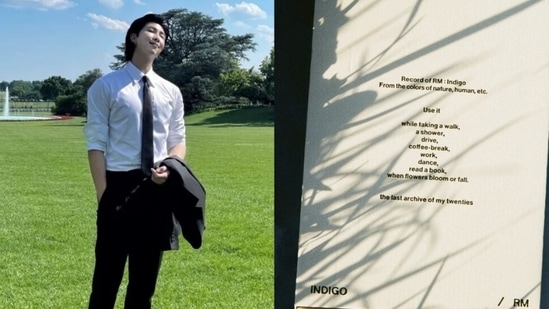 BTS ARMY was left surprised after an announcement that 200 fans will participate in an upcoming event for RM's solo album Indigo but 'minors can't attend the performance'. Taking to Weverse on Wednesday, BigHit Music announced that 'a small performance video recording that engages closely with the audience' will take place in Seoul on December 5. As per the statement, those BTS fans born after December 31, 2002, can't enter the venue.
A part of the statement read, "Hello. This is your BTS fan club manager. We have a variety of content planned for the promotions for RM's solo album Indigo and we would like to invite ARMY who love and adore our artist to participate in one of the events: a small performance video recording that engages closely with the audience."
The recording time, of approximately an hour, will take place at 8 pm (KST) on December 5 in Seoul. There will be a total of 200 participants.
The statement also said, "Date and Time of Recording Application: 3:00 - 3:30 PM, Thursday, November 24, 2022 (KST). Application Link * The winners will be selected through a raffle. Winner Announcement: 3 PM, Friday, November 25, 2022 (KST). Minors cannot attend this performance. (Only those born before December 31, 2002, can enter the venue). Dates and times for the application page are based on server time."
Reacting to the statement, a fan wrote on Twitter, "Namjoon going on stage doing a backflip and ripping his shirt off?" Another comment read, "I think the songs will have cursing. Namjoon album will be some deep s***." "Minors not being able to go… oh .. namjoon what side are we seeing of you with this album?" asked a Twitter user.
"He might perform shirtless," read a tweet. "It's gonna be pure perfection! Wheeew! He's really gonna pour his heart out!" said a fan. "Most probably is cursing esp if Joon coming in those black neck turtle fit body," wrote another ARMY. "'No minors allowed' what is namjoon gonna be twerking in there??" read another comment. RM's real name is Kim Namjoon.
RM will release his first full-length solo album Indigo on December 2, his agency Big Hit Music said earlier this month. The agency introduced Indigo as an album like a diary that contains RM's thoughts and worries. RM said on his SNS that he has been preparing for the album since early 2019.
With the single, RM will become the third member to debut as a solo artist after J-Hope and Jin. RM has previously shown his own musical ability by releasing mixtapes, including RM and MONO.
Personalise your news feed. Follow trending topics