Jr NTR's cousin Nandamuri Taaraka Ratna in 'critical state on maximal support', says Bengaluru hospital in statement
Jan 28, 2023 08:11 PM IST
Nandamuri Taaraka Ratna is in a 'critical state' said Bengaluru hospital in a statement. He was diagnosed with Anterior Wall Myocardial Infarction.
Actor Nandamuri Taaraka Ratna, the cousin of RRR actor Jr NTR, is currently in a 'critical state on maximal support'. The Narayana Institute of Cardiac Sciences (Narayana Hrudayalaya), Bengaluru, issued a statement on Saturday giving a health update on Nandamuri Taaraka Ratna. On Friday, he had collapsed during a political foot march in Kuppam. (Also Read | Nandamuri Taraka Ratna collapses during political rally and suffers cardiac arrest, admitted in ICU)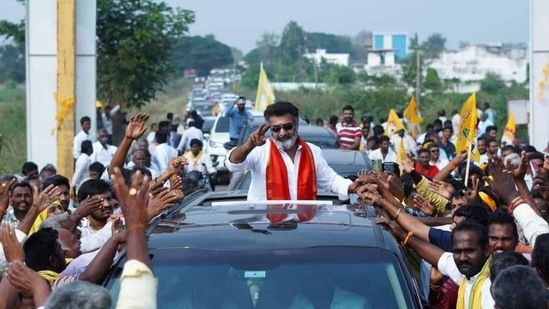 The hospital's statement read, "Shri Nandamuri Taaraka Ratna suffered a Cardiac Arrest at Kuppam on 27th January and was shifted to a Hospital in Kuppam with resuscitation for 45 minutes and primary treatment. Doctors there advised to move him to a tertiary center due to his critical condition. We were requested to transfer him to Narayana Institute of Cardiac Sciences (Narayana Hrudayalaya), Bengaluru when a team of doctors from NH travelled to Kuppam to evaluate his condition."
It added, "He was found to have an Anterior Wall Myocardial Infarction with Balloon Angioplasty, on Intra-Aortic Balloon Pump (IABP) and Vasoactive support. He was transferred to NH via road at 1 am on 28th January. On arriving at NH higher level diagnostics showed that his condition was highly critical due to the cardiogenic shock after the Myocardial Infarction, and evaluation of his condition will continue with treatment under standard guidelines and protocols.
"He is currently under the care of a multi-disciplinary clinical team including Cardiologists, Intensivists, and other specialists at NH. He remains in a critical state on maximal support. He will continue to be under rigorous evaluation and treatment in the coming days. We request that visitors be discouraged at this point in time, as we ensure privacy and uninterrupted treatment for Shri Nandamuri Taaraka Ratna," concluded the statement.
Taaraka's uncle Nandamuri Balakrishna on Friday had said that he suffered a massive heart attack and was rushed to the hospital. He was part of the political rally that was kicked off by former chief minister Nara Chandra Babu Naidu's son Nara Lokesh. Reportedly, Taaraka also took part in a puja at Lakshmipuram Sri Varadaraja Swamy Temple. Following that he also joined for prayer at a mosque and collapsed while exiting the shrine.
Taaraka made his acting debut in the 2002 Telugu film Okato Number Kurradu. He's popular for his work in movies such as Taarak, Bhadri Ramudu, Manamantha and Raja Cheyyi Vesthe. Taaraka was recently seen in 9 Hours, Disney+ Hotstar's Telugu web series.
ott:10