Bigg Boss 16: Shekhar Suman calls all contestants 'fake' in his qawwali performance; Tina Datta, Shiv Thakre react
Nov 27, 2022 01:42 PM IST
Tina Datta, Archana Gautam, Priyanka Chahar Choudhary, and Shiv Thakare, along with other contestants were seen grooving as Shekhar Suman sang a qawwali dedicated to them in Bigg Boss 16.
Shekhar Suman will be seen on Bigg Boss 16. ColorsTV shared a promo video of the latest episode featuring the actor, where he sang for the contestants. As he gave a qawwali performance inside the house, Archana Gautam, Priyanka Chahar Choudhary, Tina Datta and other contestants sat inside the living room and could not get enough of Shekhar's lyrics, where he called them 'fake', and made fun of their recent interactions on the show. Also read: On Bigg Boss 16, Salman Khan gets angry at Sumbul Touqeer, says she's 'obsessed with Shalin Bhanot'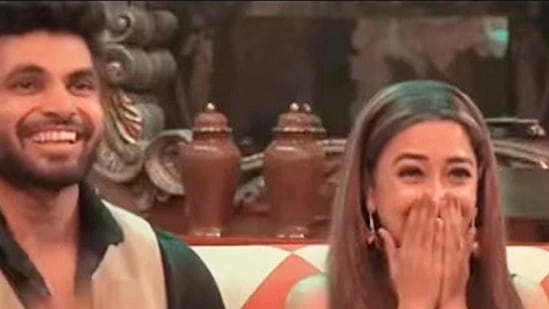 Tina, Priyanka and Shiv Thakre could not stop laughing and clapped as Shekhar Suman gave the performance, while Archana stood up from her seat to dance. Sharing a promo of the Sunday episode, the channel wrote, "Shekhar Suman ke saath ho jaaiye taiyaar to enjoy Qawwali special (get ready to enjoy the Qawwali special with Shekhar)." Qawwali is a form of Sufi singing.
In the clip, Shekhar, who sat on a small stage with a few musicians in the background, sang, "Bigg Boss ke ghar mein, sab dikhte nek hain, andar jo jhanko toh, har koi fake hai (inside the Bigg Boss house, everyone looks good, but when you see them up-close you realise that they are all fake)." A part of Shekhar's qawwali also included the line, "Jhagde mein yeh log seedha gaali pe aate hain (when they fight, they come down straight to abusing each other)…"
While Priyanka and others were seen clapping as Shekhar sang. Tina covered her mouth and laughed as Shiv, who was sitting next to her, also had a good time, and was seen cheering for Shekhar as he joked about Tina's 'hygiene' inside the Bigg Boss house. In a previous episode, Archana had criticised Tina for pretending to be hygienic, while her room was 'messy'.
Recently, Bigg Boss 16 saw a confrontation between Sumbul Touqeer's father and the parents of Shalin Bhanot and Tina Datta in the Weekend Ka Vaar episode. Host Salman Khan also reacted to the statements made by Sumbul's father about Shalin and Tina. Recently, Bigg Boss had shown Tina, Shalin and all the other contestants a clip of the phone call between Sumbul Touqeer and her dad, which left Shalin and Tina furious. After hearing the father-daughter's conversation, Shalin screamed at Sumbul and told her to listen to her father and not to speak with him and Tina again. Tina also accused Sumbul's father of trying to assassinate her character to save the image of his own daughter.
Bigg Boss 16 airs Monday to Friday at 10pm, and on Saturday and Sunday at 9.30pm.