Tina Datta is furious after learning about Sumbul's dad's comments, has message for him: Khud ki beti nahi sambhalti...
Published on Nov 24, 2022 08:30 PM IST
Bigg Boss opened a can of worms as he showed Tina Datta, Shalin Bhanot and the rest of the contestants the phone call between Sumbul Touqeer and her dad.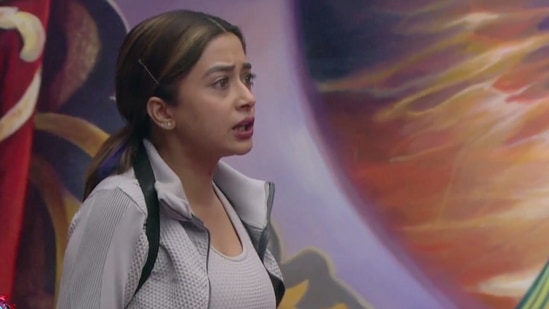 Bigg Boss has unveiled a longer, new promo for Thursday's episode that shows just what happened inside the house when he showed everyone the footage from Sumbul Touqeer's phone call with her dad. As expected, Tina Datta and Shalin Bhanot were furious. (Also read: As Sumbul Touqeer's dad calls Tina Datta 'kamini', Kushal Tandon and Kashmera Shah defend her)
Bigg Boss told everyone that the call was made on 'humanitarian grounds' but Sumbul's father used it for 'najaiz faeda (wrong reasons)'. During the call, Touqeer Hasan Khan told Sumbul to stay away from Tina and Shalin, called them 'kaminey log (scoundrels)' and told her to show them their 'aukaat (station)'.
After hearing the conversation, Shalin broke into a rage, he screamed at Sumbul to listen to her dad and not to ever speak with them. He also kicked a box kept on a table in the meeting room. Sumbul tried to reason that she never speaks with them anymore but even Tina lost her cool at that. Sumbul said that her dad didn't say anything wrong about Tina but Tina said 'main bhi kisi ki beti hu (I am also someone's daughter)'.
A furious Tina then tried to punch a hole into a wall and said that Sumbul's father was trying a character assassination on her. "Mera character assassination karrae hain khud ki beti ki izzat bachane ke liye. Khud ki beti nai sambhalti hai toh doosro ki beti pe ungilyan mat uthao (To save his daughter's reputation he is assassinating my character. If you daughter doesn't listen to you, don't point fingers at other girls)," Tina said into the camera.
Meanwhile, in another room, others are seem trying to calm down a crying Sumbul who seems to be panicking. Nimrit even asks Bigg Boss to call Sumbul to the medical room.
Sumbul's father has, however, requested fans of the actor to vote her out of the house. "I know there are people who love her but I think it's time she should be out. The girl who is in the house is not my daughter. She has lost her positivity and happiness. I don't want her to go through any grief again. I would thus request her fans to not vote for her. I am praying she gets evicted this Saturday," he told Indian Express.
Personalise your news feed. Follow trending topics