Kritika Kamra on industry facing financial setbacks: Daily wage workers are expected to take the brunt and I don't think that's fair
Jan 17, 2023 12:22 PM IST
Actor Kritika Kamra talks about the difficult times that the entertainment industry is facing and says the burden should be taken off the shoulders of people who are already struggling to survive
2022 has been a great year for actor Kritika Kamra, who is eying multiple releases in 2023. Though she is enjoying a high in her career, Kamra points out that it's a difficult time for the entertainment industry as it is trying to adjust to the new normal post the Covid-19 induced lockdown.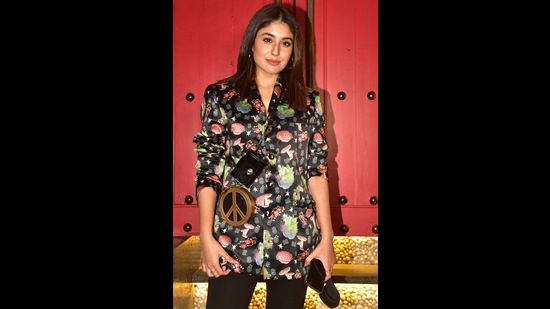 "Of late, I have been hearing of budget cuts. Some projects are being shelved. The economics of things are also changing. Even projects that were green lit previously are getting shelved. Even though we are going forward and good things are happening, I feel like it is being done differently than we would expect."
And one thing that she is not happy amid this transition is how the brunt of difficult times is being taken by the daily wage workers on film sets. "Whatever financial struggle we are dealing with, I do not like how the budget cuts and pay cuts are expected from the crew, the technicians, hair and make up artiste, art and assistance staff. People who work on per day basis are expected to take the brunt and I don't think that's fair. These are the people who have come back to work after really long and they should not be asked for lesser money."
Kamra says she very well understands that budget has to be managed but she suggest that it should be compensated from the star's fees. She explains, "We are a star driven country no matter what we say and there is a percentage of people who are paid really really big amounts of money. There can be another way of adjustments where this responsibility lies on people who are at the top of the food chain and not on the workers who works so hard to make the ends meet."
Being part of the business for a long time, Kamra mentions that she has "knowledge of the production as well as the kind of maths one need to do to make something profitable in today's day and age, especially when the box office is not doing so well and the people are now watching so much content as they are busy. There is not much money in the market. I understand all of that. Those adjustments are necessary and they will happen in all industries. I just feel it's unfair if the daily wage workers take that brunt. People who are already not compensated the way they should be, expecting them to take this hit is unfair. I feel this responsibility should be shouldered by the stars of film and television industry," she ends.