Prince Harry says he had to cut Spare short for father, brother: 'I don't think they would ever forgive me'
Jan 15, 2023 09:57 AM IST
Prince Harry has revealed in a new interview that his memoir Spare was originally intended to be much deeper, but he had to cut down on several other revelations. In the book, Prince Harry details his tumultuous time as a royal member.
Prince Harry's memoir Spare, in which he made bombshell allegations against the senior members of the royal family, has already become a bestseller within a week of its release. Now Prince Harry has revealed that the memoir was intended to delve into many more details, but was trimmed short because if those details came into light, neither Prince William nor King Charles would ever forgive him. (Also read: Prince William, Kate Middleton ignore question about Prince Harry's book Spare in first public appearance of the year)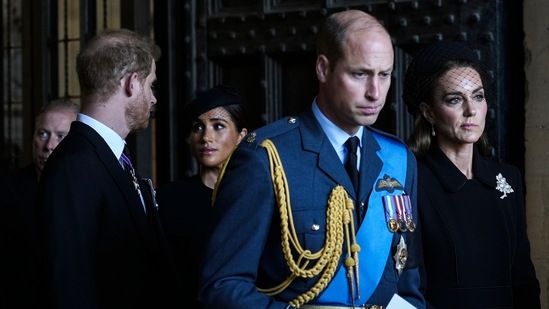 In the weeks leading upto the release of Spare, Prince Harry appeared in several interviews to promote his book where he said how his father King Charles considered him to be the "spare" son, since his elder brother Prince William would always be the one to become the heir to the throne. He also detailed an occasion where he was physically attacked by Prince William over his marriage to Meghan Markle. Now in a new interview, the Duke of Sussex revealed that he held back a lot of information that would have otherwise gone into the book.
Talking to The Telegraph, Prince Harry revealed that the book was originally intended to be much longer. "The first draft was different. It was 800 pages, and now it's down to 400 pages. It could have been two books, put it that way. And the hard bit was taking things out. There are some things that have happened, especially between me and my brother, and to some extent between me and my father, that I just don't want the world to know. Because I don't think they would ever forgive me," said Prince Harry.
Spare has turned out to become the fastest selling nonfiction book to be ever published. It has sold more than 1.4 million copies in the United States, Canada and the United Kingdom. Released on January 10, the book delves into more topics, including the challenges of growing up in the public eye, and the treatment of him and his wife, Meghan Markle, that led them to step down as working royals. Prince Harry and Meghan tied the knot on May 19, 2018, and have two children -- Archie and Lilibet. In January 2020, the couple stepped down as working royals and later settled in California, US.