Prince William, Kate Middleton ignore question about Prince Harry's book Spare in first public appearance of the year
Jan 13, 2023 11:39 AM IST
In their first public appearance of the year following the release of Prince Harry's tell-all memoir Spare, Prince William and Kate Middleton refused to make any comment on the book.
Prince William and Kate Middleton made their first public appearance together after the release of Prince Harry's tell-all memoir Spare where he made several accusations against the royal family. During a royal visit in Liverpool, when Prince William was asked whether he had read the book, he brushed off the question and exited the event. (Also read: Royal Tailor Ajay Mirpuri breaks silence on Kate Middleton Meghan Markle bridesmaid dress row: '...it's nerve-wracking')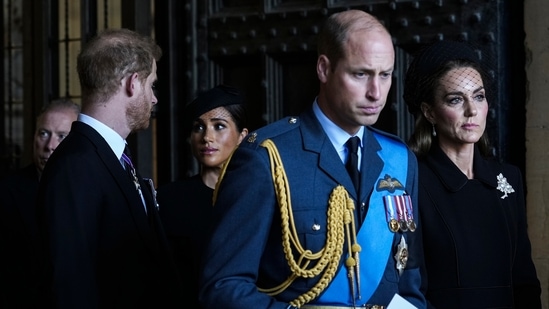 In a video footage captured by ITV, Prince William and Kate Middleton were seen to exit the place as the reporter shouted twice at them, "Your Royal Highness, have you had a chance to read your brother's book at all?" William showed no reaction to the question and Kate also ignored the question completely, as the royal couple walked out of the charity event on Thursday. So far, neither Buckingham Palace nor any member of the royal family have made any comment on Prince Harry's book.
In the weeks leading up to the release of Spare, Prince Harry appeared for several interviews to promote his book where he made claims against the royal family and accused his brother Prince William of physically attacking him. In an excerpt that was published before the release the book, Prince Harry also detailed about Camilla, Queen Consort, whom he called "the villain," who leaked several details to the press. Since its release, Prince Harry's book has sold more than 1.4 million copies in the United States, Canada and the United Kingdom. It also secured the largest first-day sales for any non-fiction book to be ever published.
Prince Harry's book, Spare, which released on January 10, delves into more topics, including the challenges of growing up in the public eye, and the treatment of him and his wife, Meghan Markle, that led them to step down as working royals. Prince Harry and Meghan tied the knot on May 19, 2018, and have two children -- Archie and Lilibet. In January 2020, the couple stepped down as working royals and later settled in California, US.