Shamita Shetty on dating rumours with Aamir Ali: It's stupid to give a name to friendship
Feb 06, 2023 05:32 PM IST
Actor Shamita Shetty talks about the pressures that single women face after a certain age, and why she decided to address dating rumours with Aamir Ali
Shamita Shetty doesn't understand the need for people to know everything about her personal life, with the recent reports of dating actor Aamir Ali leaving her bewildered. The actor, who is single and happy, feels it is stupid to give a name to every friendship.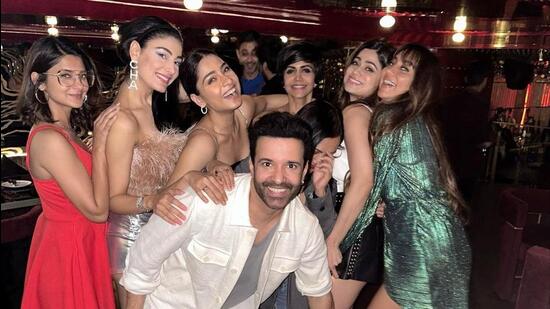 Recently, several pictures of Shetty with Aamir Ali surfaced online, following which reports claimed that they are dating each other. Soon, both the actors used social media to shun such claims.
During a candid chat with us, Shetty reveals what pushed her to set the record straight.
"It was so stupid. That is all I can say about it. There are few times when I really come out, and say something. But this time, it wasn't just about me. There was somebody else also involved. It is stupid to give a name to friendship because it is in your mind".
"Sometimes, it is unbelievable how people think. It is maybe because there are so many social platforms for people to express themselves. They really come there and express all their frustrations," adds the actor, who feels this prevalent mentality is what makes her film, The Tenant, which puts spotlight on how women are judged in a society.
Opening up about the judgments she faces a single woman, the 44-year-old shares, "Do I face constant judgments? Yes. Because I'm single and unmarried?. Yes".
"Even on my social media, there are so many people saying, 'you are at a certain age, get married', or ask me when I am getting married, some say 'you are starting to look old, get married'. Like I was literally just born to get married. That's not the only thing that a woman needs to think about. If she doesn't want to get married, it is fine. Even if she is successful, there will still be a bunch of people who will judge her because she's not married. It's not like her life is not complete because she is not married. This thought is so annoying".
In fact, her film, The Tenant, also tackles the subject of lack of privacy, a thought with which a lot of celebrities also resonate with after staying under the public glare.
Asked if she is used to people's attention into her personal life, Shetty asserts that she knows that it is a part and parcel of the job she is in.
"That comes along with being a celebrity. I have always been a very private person, unfortunately, after my stint in Bigg Boss, because I was on that show for so long, people saw everything which was going on in my life for six months," says the actor, who announced her break up with Raqesh Bapat sometime back.
The actor continues, "Now, people think that they need to know and deserve to know more about what's happening now in my life". "But I feel every individual has their right to control the scene," she ends.