Lock Upp: Anjali Arora says Kaaranvir Bohra told her to pretend she has crush on him, Munawar Faruqui calls it 'stupid'
Published on Mar 11, 2022 12:15 PM IST
Anjali Arora has claimed that Kaaranvir Bohra came to her with a picture of his wife, and told her that they should fake a relationship because the audience would love it.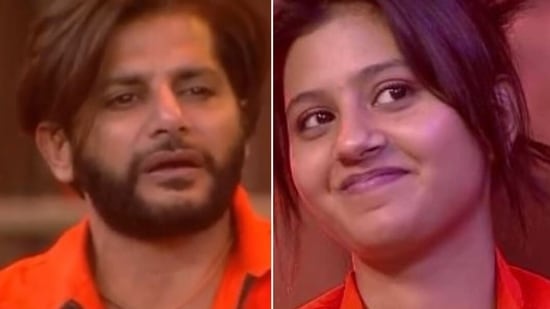 Anjali Arora has revealed that Lock Upp co-contestant Kaaranvir Bohra asked her to fake a crush for him, and make it seem like she fell for him. He said that audience enjoys such things. Anjali was talking to Munawar Faruqui on Thursday's episode of the ongoing reality show when she spoke about it. Kangana Ranaut is the host for the show and Karan Kundrra was the jailor on Thursday's episode. (Also read: Kaaranvir called 'loser' on Lock Upp, wife Teejay hits back)
Anjali whispered as she told Munawar, "Kaaranvir came with his wife's picture and said, 'In this game, it's me and you'. I told him that I did not understand. Kaaran was asking me to make a relationship with him." Munawar said, "Are you serious? This is so stupid." Anjali then laughed and added, "He told me that this is what sells. One side love. Meri age ho gayi (I am old) but you are very young. If you start liking me, people will also like it."
Anjali then said that she simply asked him what was it that she was supposed to do. "He then told me, that I have to show the audience that I have gone crazy for him." She started laughing and added, "I said, ok. But I was like, I am from Delhi. No way." Munawar asked her why she took time before she told him about it. "Were you thinking about it? Did you want to try it out? I don't know, maybe you found him attractive and really falling for him?" he asked.
Anjali said, "Are you f****** serious about this? Do you really think so? You know me!" Munawar even said that she was blushing, and asked if she was just taking time. Anjali said that she had put on blush.
Anjali then told Munawar, "I will beat you up! But, seriously, this should remain a secret." Munawar assured her that he is not the kind to talk about such things.
Close Story
Personalise your news feed. Follow trending topics