Twinkle Khanna reviews Huma Qureshi's new show Maharani, notices 'little touches' that add realism
Published on May 29, 2021 05:42 PM IST
Twinkle Khanna, in a video posted on Instagram, showered praise on Huma Qureshi's new show Maharani and called it gripping. Twinkle also praised Huma's performance as 'fabulous'.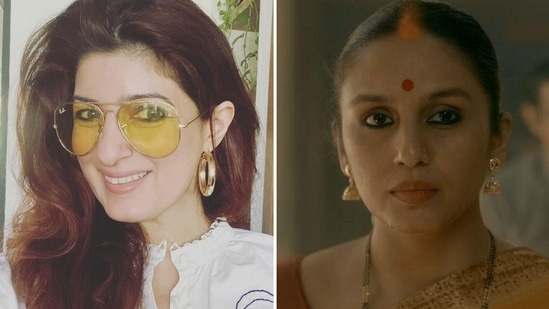 Actor-turned-author Twinkle Khanna has been watching the new SonyLIV series Maharani, starring actor Huma Qureshi in the lead role, and highly recommended it to everyone. Twinkle called the story 'engaging' and praised Huma's performance as 'just fabulous'.
In a video shared on Instagram, Twinkle said, "I have been watching a show called Maharani on SonyLIV and it has me gripped. Huma Qureshi plays this illiterate housewife who then goes on to become the CM. And I thought it was interesting to see a woman not only hold her ground but who was able to dominate the social and political arena."
"The way that they have used little-little details... I kept noticing how in the beginning, even her ghoonghat completely covers her and as the show progresses, it keeps slipping a little behind until it is just about covering her bun. To me, these little touches add a sort of realism as well as they show me a journey. It is an engaging story and Huma is just fabulous as the Maharani. For me, this was completely a must-watch!" she added.
In her Instagram post, Twinkle wrote, "Totally worth the binge! An engaging story about ambition and power with great performances especially by @iamhumaq You go girl! #MaharaniOnSonyLIV @sonylivindia @sonylivinternational."
Maharani, directed by Subhash Kapoor, features Huma as Rani Bharti, an uneducated woman, who is thrust into the world of politics after an assassination attempt on her husband Bheema Bharti (Sohum Shah). The show traces her journey from a village bumpkin into a force to be reckoned with.
Also read: Kamaal R Khan slams Mika Singh as publicity-hungry 'chirkut singer' after being called 'gadha' by him
It was rumoured that Maharani is inspired by Rabri Devi, the wife of former Bihar chief minister Lalu Prasad Yadav, who took over as the chief minister after he stepped down due to his role in the fodder scam being investigated. However, Huma maintained that the show is a work of fiction.
"It is not inspired by any real-life politician or anything. It is completely fiction. Just because it is Bihar, people have made assumptions. Our show is completely a work of fiction and so there were no references to look at," she told PTI.
Personalise your news feed. Follow trending topics