World Environment Day: The Capital says #GiveUp for single-use plastic
Published on Jun 05, 2018 04:56 PM IST
On World Environment Day, today, we talk to corporate firms, diplomats, and other private entities about their plans for a green future.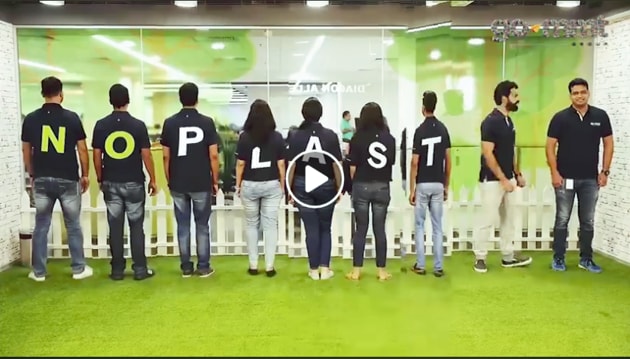 You unwrap that sandwich and chuck the clingfilm. You eat a takeaway pastry, and then toss away the plastic spoon. You're thirsty and reach for the stack of plastic glasses kept on top of the water dispenser. Then you move on, but the garbage stays in the environment almost forever, poisoning the planet.
Statistics show that some 15,000 tonnes of plastic waste are generated daily across India, and some 6,000 tonnes remain uncollected. Much of this trash comes from single-use plastic, such as PET bottles.
Such numbers look bleak, but on World Environment Day, some corporate entities and other organisations have risen to the #GiveUp challenge issued by the WorldWide Fund for Nature (aka World Wildlife Fund or WWF). The #GiveUp To Give Back initiative was started on Earth Hour 2018 by WWF-India, aiming to "inspire organisations, institutions and individuals to make the choice to curb some habits, practices and lifestyles, burdening both our lives and the environment". In response, the corporate sector in Delhi-NCR is saying #BeatPlasticPollution.
Deep Kalra, CEO of an online travel portal, has uploaded a video, in which he says that his company mitigates plastic pollution by distributing jute bags in its offices; setting up plastic-crushing machines on islands such as Andaman and Nicobar; and promoting recycling.
READ | World Environment Day: How plastic bag ban ended up in the garbage
Many other corporate entities have risen to the challenge. "We gave up single-use plastic in our meeting rooms and cafeteria," says Manas Fuloria, CEO of a Gurugram-based software company with 4,000 employees. "Each time a step is taken, there's a huge impact, which can be seen in the immediate reduction of waste generation by the company. About a year ago, we cut-down on single-use plastic bottles — we saw that every time we had an event, about a thousand plastic bottles were used; plastic bottles are usually seen as upmarket. Even when we get foreign delegates, we now serve them water in glass bottles, even if we have to convince them that it's good drinking water. In our cafeteria, we've almost eliminated the use of plastic cutlery, too," he says.
Some others are being more innovative. Deepak Ohlyan, who works in a computer technology company, says, "We're creating the world's first commercial-scale global ocean plastics supply chain. This is a fancy way of saying that we're pulling plastics out of our oceans and turning them into materials for our products. Specifically, the plastics used in our XPS 13 2-in-1 laptop is made up of a mix that includes 25% [plastic] pulled straight from our oceans."
READ| World Environment Day: Sudarsan Pattnaik makes 'biggest sand turtle' to highlight plastic pollution
Diplomats are joining the cause. There was a plastic waste management conference and a plogging (picking up litter while jogging) event recently organised at the Children's Park near India Gate. Henriette Faergemann, head for Environment, Energy and Climate Change at the Delegation of the European Union to India, says, "On June 5, the EU Delegation and the embassies of the European Union Member States will announce and adopt a 'Green Pledge' aimed at eliminating the use of single-use plastic products. With the amount of harmful plastic litter in oceans and seas growing ever greater, the European Commission is proposing new EU-wide rules to target the 10 single-use plastic products most often found on Europe's beaches and seas."
Some manufacturing companies are even making clothes out of recycled plastic. Roshan Baid, managing director of a sportswear company, says, "Consumers in India are becoming increasingly environment-conscious, which is reflected in their choice of what they eat and wear. We're using recycled polyester from plastic bottles in our products. Plastic pollution is a grave problem for the entire planet, and we're happy to do our bit for the cause of reducing plastic waste."
Interact with the author at Twitter/@HennaRakheja
Personalise your news feed. Follow trending topics