ICW 2018: Amit Aggarwal's collection was a dream for saree gown lovers
Jul 27, 2018 11:52 PM IST
India Couture Week 2018 day 3 saw designer Amit Aggarwal give an edgy twist to saree gowns, the perfect outfit for cocktails and reception. Actor Shilpa Shetty walked the ramp as his showstopper.
Remember when actress Shilpa Shetty turned heads in her emerald green saree gown by designer Amit Aggarwal? If you're looking to rock a similar ensemble for your cocktail party or reception, Aggarwal's latest collection for Hindustan Times and Sunil Sethi Design Alliance's India Couture Week 2018 has many options for you.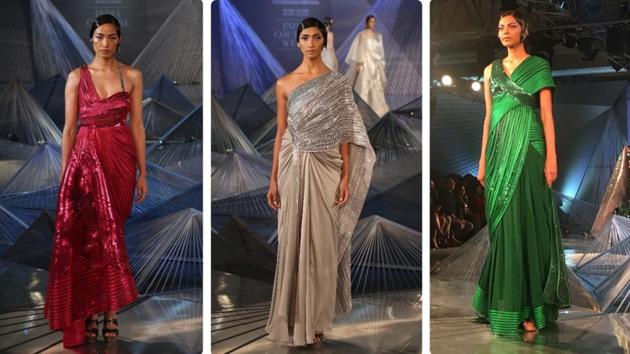 Though this is Aggarwal's debut at the India Couture Week 2018, he is no stranger to couture itself. His own couture line Amit Aggarwal (formerly Morphe) has seen him experiment with recycled plastics, industrial materials and innovative weaves in his works.
Staying true to his signature style of structured outfits with geometric designs, Amit Aggarwal's collection stood out for his take on the ever-popular saree gown. Over the last few years, this mashup outfit has found many takers. A saree gown is the perfect outfit for the modern Indian woman, who wants to show off her culture, yet have some fun.
Also read: Kangana Ranaut is a Victorian chic bride at Anju Modi's India Couture Week 2018 show
Till now, we've seen saree gowns to be more sleek and structured, but Amit Aggarwal turned it on its head by adding movement in the pallu. He gave it a traditional look by adding pleats, but the rest of the outfit offsets the traditional through edgy silhouettes and cuts.
Needless to say, the emerald green saree gown was one of our favourite picks from the night. But the silver gown with mesh-like work stood out for its juxtaposition of simple design with geometric spirals that gave it a flowy, limitless quality – just like our traditional six-yard sarees.
Also read: These Tarun Tahiliani dresses are perfect for modern brides who want subtle skin showing
We also loved the sleek black off-shoulder saree gown for its shimmering details – perfect for a night out. But the title of the best look from the collection obviously belongs to showstopper Shilpa Shetty Kundra's maroon saree gown that showed off her sexy toned legs. Here's to finding more inspiration in quintessential Indian outfits.
India Couture Week, presented by Hindustan Times and Sunil Sethi Design Alliance, will be on from July 25 to July 29, in Delhi.
Follow @htlifeandstyle for more