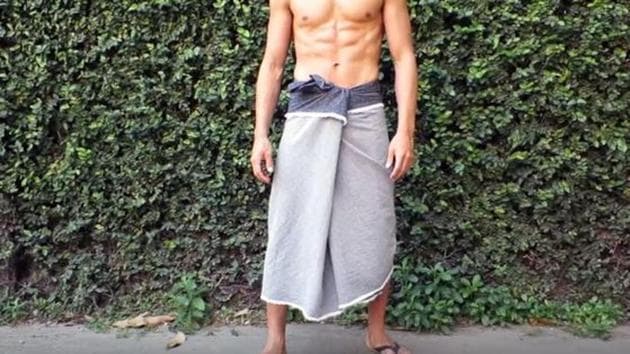 These 10 genius reasons why every dude must have a lungi will shock you
Want to give your usual wardrobe a summer face-lift? It's time to stop resisting and put the lungi in your daily roster. Read on for some practical reasons that will convince you it is the most flexible piece you can buy.
UPDATED ON APR 26, 2018 02:57 PM IST
It's 2018 and about time men left the understated behind in favour of something with a jolt of personality. It's time they threw out their mundane pants and invested in a garment that spoke for itself: Like, the classic-yet-provocative lungi.
Who says lungis are only for fathers and grandfathers? You'd have to be living under a rock to have missed the lungi revival after the summer staple from India and many Asian and African countries found its way on to the High Street via this $99.9 (Rs 6,669) Zara "check mini skirt" with "draped detail in the front".
Now the practical, no-fuss garment is a hot-weather favourite for staying cool. But Bangkok-based label Longyi Brothers is not only teaching dudes how to style a lungi for summer but also making the case for replacing men's "itchy" pants with the extra roomy longyi (just look the above hilarious video), which is the Burmese version of the lungi.
According to Longyi Brothers, if you had only one garment until the end of time, it would have to be the longyi. "The longyi is a versatile garment that every man should have. You will find countless uses for it. Whatever situation or environment you are in, the longyi will adapt to your needs. Enjoy the comfort and freedom it provides everywhere you go," reads a note on their website. And if you don't know how to tie a lungi, the label can teach you that in the turorial below.
For a man not afraid to try things out, Longyi Brothers shared a plethora of ways to adapt the loose and light lungi in their dailywear, whatever the weather or occasion. Case in point: "It is great for the beach, hiking or lounging at home."
Below are 10 practical, genius-level reasons dudes should take their lungi with them everywhere they go, according to Longyi Brothers. (We don't expect all men to embrace the style — but it's definitely a talker for our times.)
Watch and learn and then follow Longyi Brothers on Instagram for many more pictures and videos.
1. It can be used as a side sling bag
2. It can be used as a reclining chair
3. It can be used as a shawl
4. It can be used as a back support on a chair
5. It can be used as a blanket
6. One of its most handy functions is as an instant change room
7. It can be used as a ground cover
8. It can be worn as shorts
9. It can be used to hide from the sun (or your wife)
10. It can even be used to carry people. Enough said!
Follow @htlifeandstyle for more
Close