A Mourinho protégé, Mumbai City FC manager Jorge Costa looks to build own legacy
Having plied his trade as manager in various clubs over the years, Costa is now a part of the Indian Super League and the former World Cup star means business.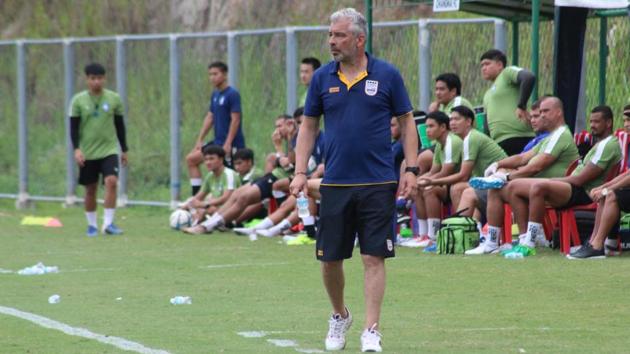 Updated on Oct 01, 2018 01:22 PM IST
Hindustan Times, New Delhi |
Baidurjo Bhose
Mumbai City FC manager Jorge Costa might have etched a name in the history books for leading FC Porto to Champions League glory under manager Jose Mourinho in the 2003-04 season, but that doesn't allow the former Portuguese centre back to rest on his laurels. Having plied his trade as manager in various clubs over the years, he is now a part of the Indian Super League and the former World Cup star means business.
While comparisons to mentor Mourinho is more than obvious, the 46-year-old wants to build a legacy of his own as he takes over the managerial role at Mumbai City FC from predecessor Alexandre Guimaraes. The Costa Rican failed to take the club into the play-offs last season, but Costa believes that this team has the ability to seal the deal this time round.
Speaking to Hindustan Times, Costa made it clear that while he has imbibed some of the qualities that great managers like Mourinho posses, he also looks to back his own instincts and what he believes will work for the team.
"I've had the pleasure of working on some great coaches like Jose Mourinho, Fernando Santos, Carlos Quieroz. For me, as a coach, I've always tried to have my own style. It's important to have that individuality. But after having the opportunity to work with such great coaches, I try to take the best things from each one of them and incorporate them in my own way of playing football," he explained.
At a time when most teams look to go to Europe to pre-season preparations, Mumbai chose to go to Thailand. Was that an attempt to think out-of-the-box like a Mourinho? Costa sadly breaks the bubble as he provides the logic behind the move.
"The standard of football played in Thailand is very high. From an international standpoint, Thailand is one of the fastest growing footballing nations in Asia. Thai clubs are a regular feature in the AFC Champions League too. And the four teams we played in Thailand were very competitive and played quality football. Apart from that, the weather in Chiang Mai/Bangkok is very similar to that of Mumbai, which made it a suitable destination for us," he smiled.
"If I have to sum up our time in Thailand in one word, I would say it was productive. I am happy with the way we've trained and prepared. We have a strong squad with players with great technical ability and understanding of the game. There is still a lot of work to do but we're highly motivated."
Asked about the team at his disposal and what he expects from them, Costa said: "Every player in the squad brings something to the table. And every single player, young or experienced, is striving hard. For me, it doesn't matter if a player is young, experienced, Indian or a foreigner. Everyone is working towards the same goal and we want to achieve our targets as a team.
"I have 18 Indian players in my side and every single of them is working hard with the same motivation. So for me, as their coach, it would be unfair to single out anyone. Like I've mentioned before, the players we have are technically very astute. They're very good on the ball and can read the game very well. All of them have trained very well in the pre-season and while it will be a headache for me to pick the best out of them, it's a headache that I don't mind."
While Costa loves to dream big, he doesn't wish to put undue pressure on his boys going into season five of the ISL. He wants them to take one step at a time. "Our target for now is simple – getting the 3 points against Jamshedpur FC in our opener on October 2 at home. After that, we can regroup and plan for our next target in Kochi. The ISL is a relatively shorter league and getting off to a good start is imperative," he said.
Having coached around the world, this is his first stint in Asia and it is this very challenge that brings him to India as he looks to turn a new leaf in his career as manager. "I've never coached in Asia. So, coming to Mumbai, it is a new challenge for me in my career. Yes, it's a new league but football is more or less the same all around the world. Of course, there are some differences in the culture and the smaller details, but football is a global game – you have to adapt wherever you go. But after being here and training for well over a month, I can say that I'm very happy and confident about the challenge ahead," he revealed.
While many feel that his progression from player to coach is one that is inspired by none other than Mourinho, Costa says it has more to do with his love for the game as this is his way of staying connected to what he loves most.
"Working with Jose Mourinho was a great experience. I was his captain at Porto, so naturally we shared a good relationship. But, becoming a coach after hanging up my boots had a lot to do to with my love for the game. When I had the opportunity to keep working in the game as a coach, I didn't have to think twice. Football is my life, and I'm fortunate to be doing what I love," he signed off.
Close Story