Arsene Wenger bids farewell to the stadium he helped build
Arsene Wenger, who will step down as the manager of Arsenal after 22 years at the helm, will manage his last home game at the Emirates stadium against Burnley.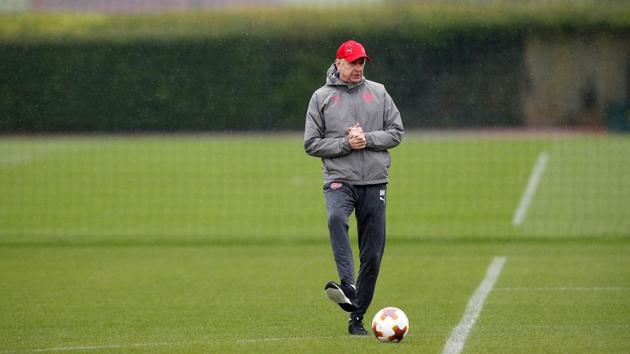 Updated on May 05, 2018 04:14 PM IST
Agence France-Presse, London | By Agence France-Presse
Arsene Wenger will bid farewell to a stadium he helped to build in more ways than one when he leads Arsenal at the Emirates for the final time at home to Burnley on Sunday.
Wenger's final season after 22 years in charge is destined to end in disappointment after Thursday's Europa League semi-final exit to Atletico Madrid.
Sixth-placed Arsenal are already out of the running for a top-four finish, and could even finish below their visitors this weekend in seventh with a poor return from Wenger's final three games in charge.
Tributes will be paid to the Frenchman at full-time on Sunday with Arsenal's players even embarking on an end of season lap of honour.
Once again, though, it will be a parade without a trophy as it often has been since Arsenal moved to the Emirates in 2006.
READ | Brighton beat Manchester United to secure Premier League survival
The success Wenger produced in his first decade at the club, winning two doubles and 'The Invincibles' unbeaten season on course to another Premier League triumph in 2003/04, created the demand to move to a 60,000-capacity stadium from Highbury.
However, whilst the Emirates was intended to give Arsenal the financial resources in the long term to compete with not just England's, but Europe's elite, it significantly hampered Wenger's ability to challenge in the short term.
Wenger claimed it was his commitment to remain with the club that helped to secure bank loans needed to build the stadium.
He was so tied to the move, Wenger even helped in the design of some parts of the stadium such as the dressing rooms.
'Most difficult period'
However, once the move had taken place, Wenger was often forced to sell his best players to pay back those loans at the same time huge investment poured into Chelsea, Manchester City and Manchester United.
"In 2006 the most difficult period of my life started. We had restricted finances, we had to pay back a huge amount of money and we had to sell our best players," Wenger told BT Sport ahead of last season's FA Cup final.
READ | Yaya Toure to leave Manchester City at the end of the season
"That was, for me, the biggest period of pressure between 2006 and 2014. If you told me today I'd do that again I would say 'no thank you, I'll leave that to someone else.'"
By the time Arsenal were ready to join in the arms race in the last four years, the Gunners were playing catch up and Wenger too far stuck in his ways to enact the change that was needed.
Wenger is finally leaving the job to someone else, albeit it seems against his better judgement having admitted the timing of his departure "was not really my decision".
He also claimed he was going to help unite a fan base that has grown increasingly frustrated at his inability to mould a team capable of contending to win the Premier League.
That has been reflected in dwindling attendances at the Emirates in recent months.
On Sunday, though, the Arsenal fans have one final chance to gather and thank the most successful ever manager in the stadium that stands for the legacy he leaves behind.
Close Story