Croatian leader Kolinda Grabar-Kitarovic hands Vladimir Putin soccer shirt before World Cup final
Updated on Jul 15, 2018 08:05 PM IST
Croatian president Kolinda Grabar-Kitarovic who has been visible during the 2018 FIFA World Cup gave a Croatia jersey to Russian president Vladimir Putin ahead of the final.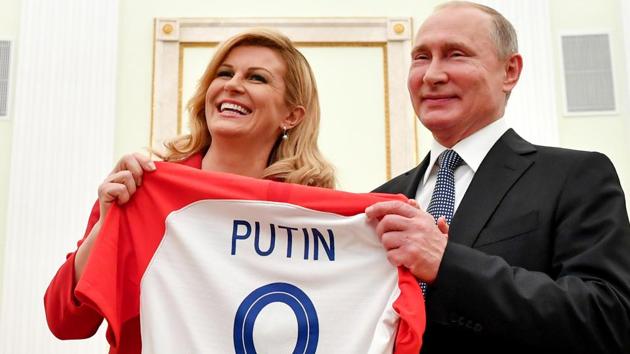 Reuters, Moscow |
Reuters
Croatian President Kolinda Grabar-Kitarovic gave Russian President Vladimir Putin a Croatian football shirt with the name "Putin" printed on the back on Sunday, hours before Croatia play France in the World Cup final in Moscow.
Croatia has been caught up in football fever after the Balkan nation of 4.2 million people swept aside more fancied opponents to reach its first ever World Cup final, which Russia is hosting this year.
Grabar-Kitarovic has, herself, entered into the spirit of the occasion, travelling to Russia to watch matches and dressing in the colours of the national flag. Croatia knocked Russia's team out of the competition in the quarter-finals.
ALSO READ | Vladimir Putin passes torch to Qatar for FIFA World Cup 2022
At a Kremlin meeting, Putin congratulated the Croatian president on the Croatian team's performance.
"I'm sure we will see a beautiful game today," he said. Grabar-Kitarovic thanked Putin for what she said was the successful organisation of the competition.
Putin presented her with a bouquet of flowers, while she gave the Russian leader the Croatian national shirt.
Personalise your news feed. Follow trending topics