FIFA World Cup 2018: Mexico fans chant homophobic slur at Germany keeper Manuel Neuer
FIFA has reportedly fined Mexican football federation for chanting homophobic slur at Germany goalkeeper Manuel Neuer during their FIFA World Cup 2018 encounter.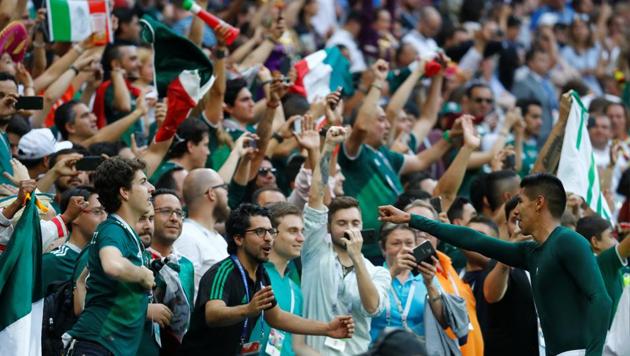 Updated on Jun 17, 2018 11:12 PM IST
Mexican fans have chanted a homophobic slur at Germany goalkeeper Manuel Neuer during the World Cup game here today.
FIFA has repeatedly fined the Mexican football federation over the chant.
It rang out at Moscow's Luzhniki stadium in the 24th minute of Mexico's game against Germany with the game still goalless.
Fans in Mexico use the chant to insult opposing goalkeepers as they take a goal kick.
ALSO READ | Hirving Lozano strikes as Mexico stun defending champions Germany
Widely considered a slur, some argue there is no discriminatory intent.
The Court of Arbitration for Sport cancelled two fines against Mexico in November, ruling the chant was "insulting" but not meant to offend, though it left other fines in force.
Germany Stunned
Germany became the third defending champion in the last 16 years to lose its opening match at the World Cup, falling to Mexico 1-0 Sunday.
ALSO READ | FIFA World Cup: Kolarov stunner guides Serbia to 1-0 win over Costa Rica
Hirving Lozano scored the lone goal in the 35th minute, picking up Javier Hernandez's pass inside the penalty area and beating Mesut Ozil before shooting past Manuel Neuer from 10 yards.
"I don't know if it's the biggest victory in (Mexico's) history, but one of the biggest for sure," Lozano said. "It's great to start on the right foot when you are playing the world champions."
France in 2002 and Spain in 2014 were the other defending champions to lose their opening matches. Neither of those teams advanced from the group stage.
The Germans are bidding to become the first team to retain the World Cup title since Brazil in 1962. They hadn't lost an opening game since the then-West Germany succumbed 2-1 to Algeria in 1982.
Close Story
Personalise your news feed. Follow trending topics