FIFA World Cup 2018: Once a nomad, Iran's Alireza Beiranvand steals limelight after Cristiano Ronaldo's penalty miss
Jun 26, 2018 11:22 AM IST
Alireza Beiranvand, Iran's goalkeeper at FIFA World Cup 2018, apparently slept on the streets, worked at a car wash and ran away from his nomad lifestyle to Tehran to achieve his dream of becoming a footballer.
Iranian goalkeeper Alireza Beiranvand became an overnight star after he blocked a penalty kick by Cristiano Ronaldo during a Group B match of the ongoing 21st edition of the FIFA World Cup in Russia. However, if one looks back at his past life - the struggles that he went through - surely does not look less than the subject of a biopic.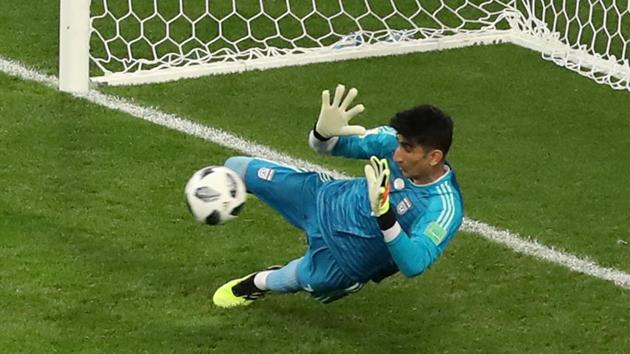 Beiranvand apparently slept on the street, worked at a car wash and ran away from his nomad lifestyle to Tehran to achieve his dream of becoming a footballer.
ALSO READ: Russia 2018 breaks World Cup penalties record as VAR drama continues to steal spotlight
"Iranian goalkeeper slept on the street, worked in a car wash and was homeless in order for him to make his dream of playing football come true. He ran away from his nomad lifestyle to Tehran and struggled to reach his dream. Tonight he blocked a penalty by Ronaldo. #motivation," read a post on Twitter by Iraqi activist and journalist Steven Nabil.
Further sharing details about Beiranvand's life, Nabil wrote: "People would walk by and see him sleeping in front of the football club's gate. They would throw coins thinking he is a homeless person. He was, but he had a dream. Today he will be on every television screen in the world."
Nabil has called Beiranvand's heartfelt life journey a story of 'struggle and hope and success'.
For those unversed, the most unusual part of the 1-1 draw between Portugal and Iran at the Mordovia Arena came in at the 53rd-minute when in-form Ronaldo went off target with a penalty awarded after a video-assisted review.
ALSO READ: No mercy for Lionel Messi, promise Nigeria ahead of FIFA World Cup showdown
Despite a strong attack from Iran, Portugal managed to enter the round of 16 after their final group encounter.
Ricardo Quaresma gave Portugal the lead in the 45th minute, but Iran found the equaliser through a penalty conversion from Karim Ansarifard in the extra time.
Ronaldo's miss was punished in the extra time when Cedric Soares was pinged for handball following which referee Enrique Caceres again went to his video monitor.
While Iran couldn't make it to the knockout rounds of the tournament, the 37th ranked surely had something good to take away from their last match against fourth-ranked Portugal.
Not to miss out, this is not the first time when an Iranian goalkeeper has received so much limelight away from the field.
Soon after Iran's first match at the 2014 World Cup against Nigeria, goalkeeper Alireza Haghighi's name became viral over social media for his good looks.
During that time, he suddenly became a sweetheart for thousands around the world.