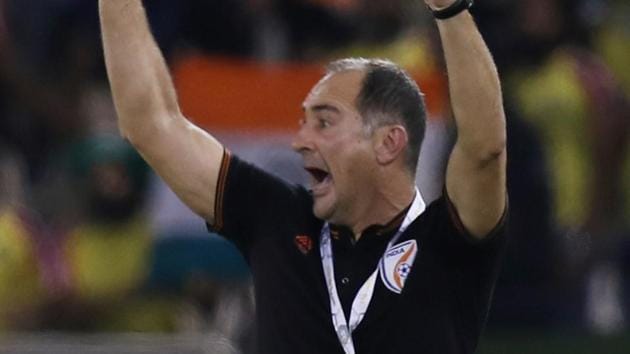 'I-League players should not feel left out of national team' - Igor Stimac
The Indian team is virtually out of contention of advancing to the third round of the 2022 World Cup qualifiers after losing to Oman 1-0 in Muscat on Tuesday.
New Delhi | By Bhargab Sarmah
UPDATED ON NOV 21, 2019 10:26 PM IST
Indian footballers playing in the I-League, which recently lost its top-flight status to the Indian Super League (ISL), shouldn't feel 'lonely' or 'forgotten', senior national team head coach Igor Stimac said on Thursday. Speaking to reporters on the sidelines of the I-League's season launch, Stimac offered words of praise to the 23-year-old club competition, founded in 1996 as National Football League and rebranded to its current name in 2007.
"I am here to show that I-League for us is as important as ISL. I am here to offer my support to all the players who are participating in the I-League this season. I am here to send them the message that all those who have Indian passports are possible candidates for the senior India team," Stimac said. "I am here to tell them also that all players of the senior national team came through the I-League. It's up to them how they are going to perform, how they are going to present themselves and how they are going to represent their clubs," he added. "There is another message I would like to send to them: I will come to watch the games live whenever I can, to support them (in) whatever they do, to show them that they shouldn't feel lonely and forgotten because they are of great importance for Indian football's future."
The new season of the 11-team I-League starts on November 30, with former champions Aizawl FC and Mohun Bagan facing off in the opener in Aizawl.
'DISAPPOINTED'
Having recently returned from Muscat after a 1-0 defeat at the hands of Oman in the 2022 FIFA World Cup qualifiers, five days after a 1-1 draw against Afghanistan in Dushanbe, Stimac said he was disappointed by the results but cited injuries to key players as obstacles.
"We came back home a bit disappointed with the results. But that didn't undermine our faith and belief in what we do. We faced big difficulties with regards to the opponents, climate differences. It's not something we are trying to use as an excuse but the injury problems are something we are finding most difficult (to cope with)," he said.
Defender Sandesh Jhingan and midfielders Rowlin Borges and Amarjit Singh had been ruled out of the qualifiers against Afghanistan and Oman, while India lost defenders Adil Khan and Rahul Bheke and midfielder Pronay Halder to injuries during the game in Muscat. "But when we look back, we need to be positive. The facts are there: in the last qualifiers, there were five consecutive defeats; now we have two defeats and three draws," Stimac said, referring to India's previous World Cup qualifying campaign under Stephen Constantine.
"When you take the numbers from the Asian Cup under Mr Constantine and the last five games, the numbers are following: average number of passes during Asian Cup was 242, now it's 400. Passing accuracy at the Asian Cup was 67%, now it is 82%. We reduced long range passes from 25% to 15%." At the 2019 Asian Cup, India had played Thailand, UAE and Bahrain. In the last five games cited by Stimac, India faced Oman twice, Qatar and Afghanistan away and Bangladesh at home.
MISFIRING STRIKERS
Asked about India's poor attacking stats—against Oman, India had just one shot throughout the game, and none on target—Stimac said India suffered due to a lack of goalscoring strikers. "Can you mention to me one player with Indian passport playing as a striker and scoring goals in the leagues? You mentioned one to me (Sunil Chhetri). Why do you expect that we are going to score goals in the international level if we don't have a single striker in the league playing and scoring goals? And I don't work with the players on a daily basis; I work with them for five days before a game," he remarked.
Last season, no Indian player reached double figures, in terms of goals scored, in either I-League or ISL. Chhetri and Jobby Justin were the top Indian scorers across the two leagues, with nine goals each. Chhetri played in 19 matches and Justin in 17.
Stimac had earlier asked for fourth round ISL games to be postponed in order to hold a national team camp ahead of the games against Afghanistan and Oman, a request that was turned down. He was coy in his response when asked whether he would ask for more time with his players ahead of the next round of games. "I didn't come here to make requests; I came here to help. Up until now, everyone has been very helpful. AIFF (All India Football Federation), FSDL (Football Sports Development Limited—commercial partners of AIFF) and we are working together on many things which we can improve together and it will give us results in the future," he said.
India are slated to face Asian champions Qatar in their next World Cup qualifying game away in March. Nine points behind second-placed Oman in Group E, India are effectively out of the reckoning for progression to the next World Cup qualifying round.
Close