Indian Super League to be 10-team affair, Bengaluru FC & Tata Steel new entrants
Updated on Jun 12, 2017 09:00 PM IST
The Indian Super league will have two new teams - Bengaluru FC and a side owned by Tata Steel - from 2017-18 season. The duration of the tournament will also increase to five months.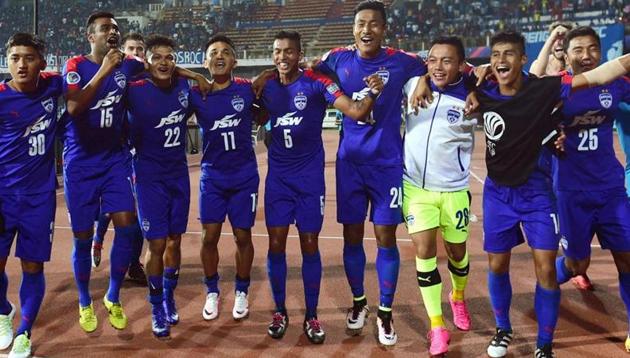 The franchise-based Indian Super League will be a 10-team affair from the 2017-18 season. Bengaluru FC and Tata Steel (Jamshedpur) will be the two new sides in the competition, it was announced on Monday.
The duration of tournament will also increase from this year. "The ISL in its fourth edition will witness an expanded five-month module with number of participating clubs increasing to ten from its original eight founding member city clubs," Football Sports Development Limited (FSDL), the organising body of ISL, said in a statement.
Read | AIFF set to grant AFC Cup slot to Indian Super League winners: Sources
The inclusion of two new teams came through a tender process floated by FSDL last month. FSDL had invited bids for 10 cities - Ahmedabad, Bengaluru, Cuttack, Durgapur, Hyderabad, Jamshedpur, Kolkata, Ranchi, Siliguri and Thiruvananthapuram.
Both the new owners have rich history in football. The Tata group formed the Tata Football Academy (TFA) in Jamshedpur in 1987. It has produced 135 national players, with 19 of them having led the national team as Captain across various age groups.
Read | AIFF proposes knockout tournament for I-League, ISL teams to decide AFC slots
Bengaluru FC, meanwhile, has been one of the most successful clubs in domestic football over the last four years. The Jindal Steel Works-owned club, formed in 2013, has won the I-Leagues and the Federation Cup twice. Bengaluru FC are also the first Indian club to enter the final of the continental AFC Cup.
Troubled times
The formation of two new ISL clubs comes at a time when the All India Football Federation (AIFF), ISL and I-League are going through an impasse regarding the AFC Cup slots.
The ISL teams have asked for AFC Cup slots while I-League clubs feels that they will be hard done by the decision.
According to sources, the AIFF has proposed that the ISL and I-League run together this term and the top four teams of each league then meet in a knockout competition.
The winners and the runners-up of that competition will represent India in Asian club competitions.
Personalise your news feed. Follow trending topics