Manchester United stars face FA Cup semi-final axe as Jose Mourinho fumes
Manchester United manager Jose Mourinho says he will drop players for FA Cup semi against Tottenham Hotspur in the wake of disappointing defeat to bottom club West Bromwich Albion, which handed the Premier League title to Manchester United.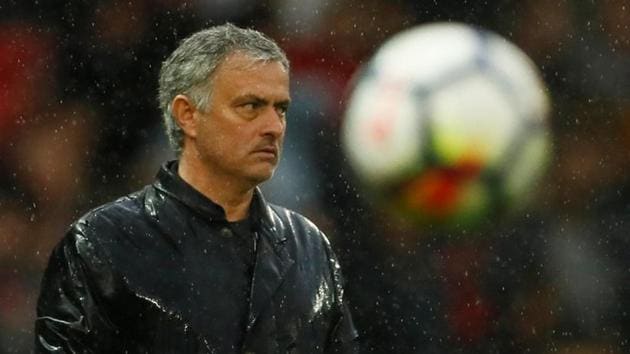 Published on Apr 17, 2018 10:52 AM IST
Agence France-Presse, London |
Agence France-Presse
Jose Mourinho has vowed to drop several of Manchester United's stars as he fumes over their lacklustre loss to West Bromwich Albion.
United crashed to a shock 1-0 home defeat against bottom of the table Albion on Sunday as Jay Rodriguez sealed the visitors' first Premier League win in three months.
The limp performance gift-wrapped the Premier League title for arch rivals Manchester City and left United boss Mourinho seething.
He accused his players of resting on their laurels after beating City two weeks ago.
Now Mourinho will take action when he selects his team for Wednesday's Premier League trip to Bournemouth and Saturday's FA Cup semi-final against Tottenham at Wembley.
"Rotating is not the right word," Mourinho said. "If I play a player against Bournemouth and the player is phenomenal, he plays the semi-final.
READ | Andy Carroll strike spares Joe Hart's blushes as West Ham draw with Stoke City
"So is not rotating, because rotating looks like a player that plays against Bournemouth is to give a rest to somebody that is going to play against Spurs in the semi-final.
"So, the word is not rotation, it is an opportunity for people, for some people to play and to try to get a place in the team for Spurs - and some of the guys that played (against West Brom), they don't have a place in that team."
Asked to clarify if he meant that some of those who under-performed against West Brom would now not play against Tottenham, Mourinho retorted: "Yeah. What is the criteria for a manager to choose a team? I only know one criteria: the way you play is the only way I can select players.
"Or do you want me to go for the price they cost, or their salary, or their beautiful face? The only way is to go with performance."
Ander Herrera was replaced at half-time on Sunday and Ashley Young was taken off in the 75th minute, while Paul Pogba was withdrawn in the 58th minute. The France midfielder was a shadow of the imposing, match-winning presence seen in the second half against City.
READ | FC Barcelona closing in on La Liga title ahead of Celta Vigo trip
"It was not just him," Mourinho said of Pogba's performance.
"And he had a yellow card, so he was in a more difficult position than others.
"And playing with only two midfield players, you cannot play with one player in risk of not being able to make a foul.
"You can do it if your team is not losing the ball, but our team was losing the ball so easy with the complication, everything was complicated, so we were losing lots of balls.
"So, by losing lots of balls, with turnings and flicks and tricks, the midfield players and central defenders are at risk of one touch, one late challenge and they are out."
Close Story