Mohun Bagan face tricky Shillong Lajong test in Super Cup quarter-final
Shillong Lajong staged a spectacular upset victory in their previous match when they overturned a two-goal deficit against FC Pune City to fix a date with Mohun Bagan in the Super Cup quarter-final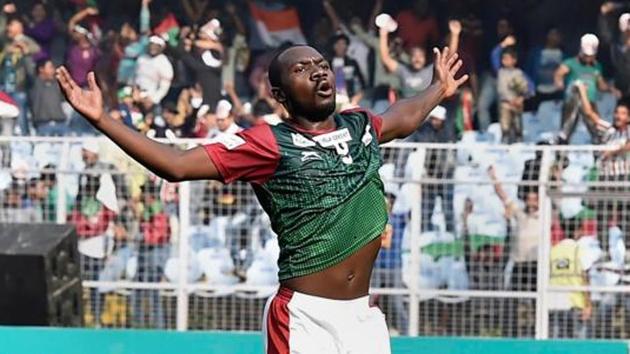 Updated on Apr 10, 2018 08:41 PM IST
Kolkata heavyweights Mohun Bagan face a tricky test in Shillong Lajong, on a high after their stunning come-from-behind win over FC Pune City, in the Super Cup quarterfinals in Bhubaneswar on Wednesday.
Mohun Bagan coach Sankarlal Chakraborty implored his players to take the match as an opportunity to repay the fans who have supported them through thick and thins.
READ | East Bengal beat Aizawl FC to enter Super Cup Semis
"I always say this to my players that Mohun Bagan is not only a club but an institution. Whoever dons the jersey should take pride in representing the club and we'd try our level best to repay the fans who support us through thick and thins," Chakraborty said.
Youngster Raynier Fernandes also retorted in a similar tone. "We get lots of support from the stands irrespective of wherever we're playing. We're looking forward to something similar tomorrow as well. It provides us with a much-needed mental boost and pushes us to give the extra bit of effort on the field."
Lajong staged a spectacular upset victory in their previous match when they overturned a two-goal deficit against FC Pune City to fix a date with Mohun Bagan in the quarter-final.
READ | Will try to submit report on AIFF by April 18, says SC-appointed administrator
Sankarlal reminded that I-League is history now and tomorrow's match will be a new game against a redeemed Lajong.
"I-League is over. Although we have beaten them in Shillong, it's history now. They have shown their capability against FC Pune City and we have seen how deadly they are, even in the 90th minute. Tomorrow is a new game and we are taking it very seriously."
Meanwhile, he mentioned that a silly mistake might cause a huge dent in the title challenge, hence they'll prefer to take a cautious and balanced approach from the kick-off rather going all-out in the attack.
"It's a knock-out game tomorrow. We have to balance well between the defence and attack. We have to be quick enough to hurl a counter-attack from the defence, on the other hand, we have to fall back without any hesitation while the situation demands. One mistake can shatter the title dream completely."
READ | Football bosses evasive; Bhaichung Bhutia, Renedy Singh back FIFA proposals
Shillong Lajong interim head coach Alison Kharsyntiew showed respect for his counterparts but stated that they have come here not just to participate but to win the tie.
"We believe in ourselves and that's why we have come here. Yes, I remember that we were on the receiving end in I-League at our home. But tomorrow is a different game and we believe in our teamwork to get the mission accomplished once again. We accept the challenge."
Close Story