Russian football league slammed for making grizzly bear perform before a game
The bear was seen standing on his hind legs and handing over the match ball to the referee before starting to clap ahead of a third-tier Russian football league game.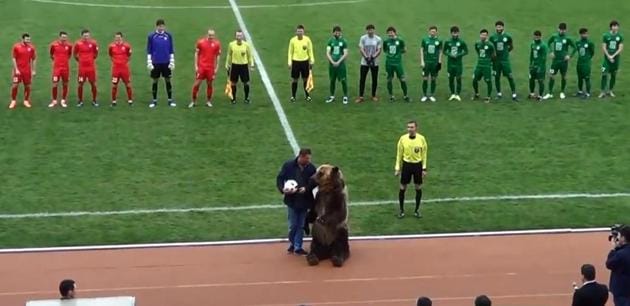 Updated on Apr 17, 2018 06:39 PM IST
Hindustan Times, Mumbai | By Ankit Kumar Singh
The Russian football league has drawn severe flak for making a muzzled grizzly bear perform before the start of a match in the third division.
In a video posted on Twitter, the bear, who reportedly goes by the name of Tim, was seen standing on his hind legs and handing over a football to the match referee before clapping to fans just before the start of a third-tier Russian league match between Mashuk-KMV and Angusht.
The video has gone viral since then with a number of animal rights groups and fans criticising the league organisers for 'exploiting' an animal.
READ | FIFA opens disciplinary proceedings against Russia over racist chants
Taking a strong exception to the incident, director of animal welfare charity Peta, Elisa Allen, went on to term the incident "inhumane and utterly out of touch".
"In addition to being inhumane, using a bear as a captive servant to deliver a football is downright dangerous," Allen was quoted as saying by the BBC Sport.
"The bear is the symbol of Russia, so we hope the country's people will show some compassion and national pride and stop abusing them. Common decency should compel the league to pull this stunt," she said.
Joining Allen were a huge number of fans who took to Twitter to driver home their disapproval of the incident. With Russia set to host the next edition of FIFA World Cup beginning in June, this incident has tarnished the image of the country a bit.
Meanwhile, according to a report from Daily Telegraph, FIFA has rubbished suggestions of the bear being used during the World Cup opening ceremony.
Close Story