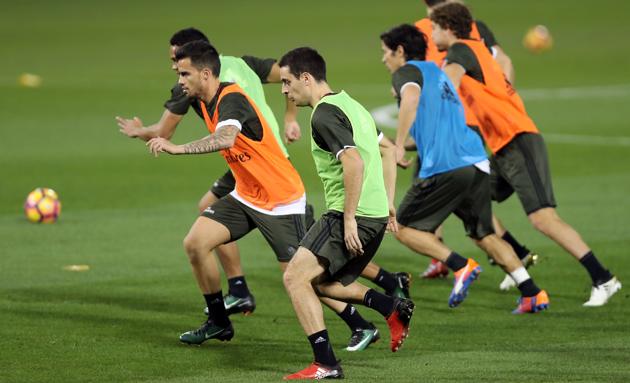 Supercoppa Italiana: Juventus face AC Milan challenge in Doha
Defending Serie A champions Juventus will face AC Milan in the Supercoppa Italiana in Doha on Friday.
PUBLISHED ON DEC 23, 2016 11:08 AM IST
Defending Serie A champions Juventus will face AC Milan in the Supercoppa Italiana in Doha on Friday.
However, there was some bad news for the Milan club as AC Milan was forced to postpone its trip by a day to Wednesday because its charter flight had technical problems.
"We've suffered a serious sporting disadvantage," AC Milan vice president Adriano Galliani said after Tuesday's flight was cancelled.
It is the ninth time the competition will be played outside Italy, and Milan only qualified for the match as Italian Cup runner-up after Juventus won both the league title and cup last season.
But Milan has turned things around this season under first-year coach Vincenzo Montella, fully embracing a youth movement.
Relying on 17-year-old goalkeeper Gianluigi Donnarumma, 18-year-old midfielder Manuel Locatelli and forward M'Baye Niang, a relative veteran at 22, Milan is only two points behind second-place Roma. Juventus, however, is seemingly on an unstoppable march to a record sixth Serie A title.
"Juventus is solid and fierce," Galliani said. "Milan is young and beautiful."
Milan beat Juventus for the first time since 2012 in October. But the team lost in April in the league and was also defeated in last season's Italian Cup final, which Juventus won 1-0 after extra time.
"We're on our fourth meeting with Juventus in this calendar year," Galliani said. "I keep saying that we've never been dominated and people write that we haven't lost and I seem drunk. I mean that in terms of the game we haven't been dominated."
Galliani said he thinks Milan has a 50 percent chance of winning, but Juventus President Andrea Agnelli has another take on the situation.
"Experience always wins," Agnelli said.
The gap in experience between the two teams is vast. Not only does Milan have a much younger team, but they also aren't used to winning trophies. The players likely to start the match for Milan have only 10 titles between them, while Juventus' probable starting lineup boasts 97 titles between them.
It is a similar situation with the coaches: Montella has never won a trophy, while Massimiliano Allegri — who was fired by Milan in January 2014 — has seven.
Juventus midfielder Claudio Marchisio is still wary of Milan.
"It won't be an easy match against Milan, which has already beaten us in the league," Marchisio said. "We will have to be very careful because they are a team which has a lot youngsters who will want to show what they can do and want to confirm what they are doing.
"But we want to finish off the year how we started it and make this 2016 perfect."
Juventus is bidding for a fourth Super Cup victory in five years, and one which would see it extend its record in the competition to eight titles.
Milan can move level with Juventus if its wins its seventh title.
It is also likely to be club president Silvio Berlusconi's last chance to add to his 28 titles won in charge of Milan, with the sale of the club to a group of Chinese investors set to be completed on March 3.
"We're happy to be in a second final of this year and we hope to return to winning ways, seeing as we haven't lifted a trophy since Beijing in 2011," Galliani said. "So for us, it's very, very important for the club, for Berlusconi."
Close