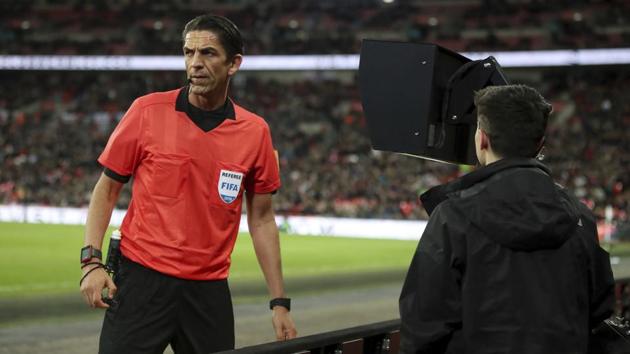 VAR: What would it have been good for at past FIFA World Cups?
Video Assistant Referees (VAR) will be used for the first time in the FIFA World Cup 2018. Here is how the course of football history would have been different if the technology was always available.
Agence France-Presse, Rome | By Agence France-Presse
UPDATED ON JUN 07, 2018 04:29 PM IST
The history of the FIFA World Cup is littered with refereeing errors and questionable decisions. How different things might have been if Video Assistant Referees (VAR) -- which will be used at the finals in Russia -- had existed all along:
The Hand of God
June 22, 1986. Mexico City. World Cup quarter-final: Argentina 2 England 1
In the 51st minute, with the game goalless, Diego Maradona and Jorge Valdano attempt a one-two. Steve Hodge tries to hook the ball clear but only succeeds in sending it back into his own box and up into the air.
READ | VAR: Controversial video referee system set for World Cup debut
Maradona gets to it before advancing England goalkeeper Peter Shilton and scores with his fist. Tunisian referee Ali Bin Nasser gives the goal. "A little with the head of Maradona and a little with the hand of God," was how the Argentina captain described it.
What VAR would have decided: Goal disallowed and yellow card for Maradona
Schumacher's moment of madness
July 8, 1982. Seville. World Cup semi-final: West Germany 3 France 3 (aet) - West Germany won 5-4 on penalties
The match was level at 1-1 when, in the 57th minute, France's Patrick Battiston was sent through on goal by Michel Platini. German goalkeeper Schumacher came charging out to the edge of his box where he got nowhere near the ball but smashed into Battiston.
READ | Brazil to beat Spain and win FIFA World Cup? That's what this study says
The Frenchman crashed to the floor unconscious, the impact of Schumacher's hip knocking out three of his teeth. Battiston, whose attempted lob went wide, was taken off on a stretcher, but all Dutch referee Charles Corver gave was a goal-kick.
What VAR would have decided: Penalty for France and a red card for Schumacher
Black day in 2010
June 27, 2010. Bloemfontein. World Cup round of 16: Germany 4 England 1
Johannesburg: World Cup round of 16: Argentina 3 Mexico 1
It was a black day for refereeing at the South African World Cup. During the last-16 clash between Germany and England, Uruguayan whistler Jorge Larrionda failed to give a goal when a Frank Lampard shot crashed off the underside of the bar and bounced down behind German 'keeper Manuel Neuer's line.
READ | 2018 FIFA World Cup: Peru hope to gatecrash France, Denmark party
England could have drawn level at 2-2, but instead went on to lose 4-1.
VAR would have had no influence in this case, although goal-line technology -- which was introduced in time for the 2014 World Cup -- would have given the goal.
The same day, Argentina's opening goal against Mexico was allowed to stand despite Carlos Tevez clearly being offside when he turned in Lionel Messi's assist. Big screens in the stadium even exposed the refereeing error as they showed replays of the goal, but by then it was too late.
What VAR would have decided: Goal disallowed
The triple yellow
June 22, 2006. Stuttgart. World Cup group stage: Croatia 2 Australia 2
Croatia's Australian-born defender Josip Simunic managed to be booked three times by English referee Graham Poll in this group-stage clash, without being sent off.
READ | England, France among youngest teams at 2018 FIFA World Cup
Poll later explained that he was caught out by Simunic's Australian accent and noted down "Australia #3" for one of his first two bookings. The official's World Cup ended that day in Stuttgart.
What VAR would have decided: VAR can intervene in cases of mistaken identity, but it is unclear if it would have changed anything in this unusual situation.
Close