76-year-old convicted killer slits wife's throat to cover up another murder
Oct 27, 2018 09:20 AM IST
Harnek Singh Dhillon murdered his 72-year-old wife who was pressing him to confess to murdering a businessman. Police say Dhillon tried to mislead his wife's murder as a suicide pact by injuring himself too.
Harnek Singh Dhillon, 76, killed his wife, Gurmehar Kaur, 72, to silence her before she could tell the police that her husband had allegedly murdered a businessman, investigators said on Friday. They claimed that Dhillon told them during questioning that he cooked up the theory of a suicide pact to mislead the police.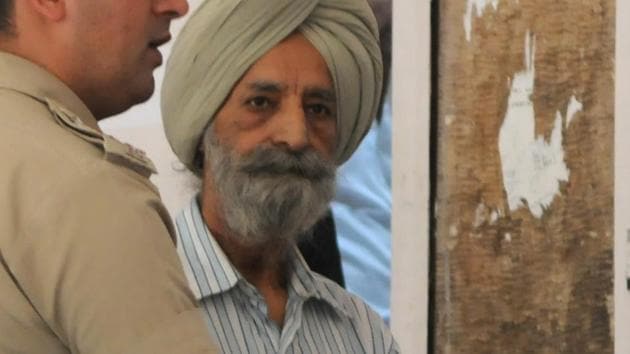 Dhillon was arrested on Wednesday for the murder of his wife, four days after police found him and wife in a pool of their blood at their DLF Phase 2 house. Dhillon had called up a relative, telling him that he and Gurmehar have attempted suicide. The police rushed Dhillon to a hospital but Gurmehar succumbed to her wounds.
On Thursday, Dhillon also allegedly confessed to have murdered Jaskaran Singh, whom he owed money.
Investigators claimed that Dhillon told them during questioning that Gurmehar had been pressing him to confess murdering Jaskaran. On October 19, they had an altercation over the same issue, following which Dhillon slit Gurmehar's throat, police officers privy to investigation said.
"Dhillon wrote a suicide note himself and signed on behalf of his wife to cook up the story of a suicide pact," said Vishnu Prasad, station house officer, DLF Phase 2 police station.
Police officers said Gurmehar was initially trying to cover up and stayed quiet for a week. The neighbours also did not report anything untoward to the police at first despite hearing an altercation on October 14 and alleged change in Kaur's behaviour after that day.
"Aunty usually met us outside but never visited our house. After the incident, she had started meeting us more often and used to tell us that their life has become miserable as police was harassing them for Jaskaran's disappearance. She told us not to record our statement to police," said a neighbour, requesting anonymity.
Others said they were not aware of Dhillon's criminal background. Dhillon had been convicted in a murder case in Ludhiana in 1979.
Manjeet Kaur, wife of Jaskaran, said something was amiss as she could never imagine the intention of a senior citizen who was friends with her husband and often visited their house. "Even the police was misled and could not understand the gravity of the situation of which Dhillon took advantage," Kaur said.