80% of students from EWS beaten in Gurugram government schools: Report
Nov 21, 2018 03:38 PM IST
The report, Choking Childhood, is based on the findings of research undertaken by social organisation Agrasar, which works with disadvantaged communities.
As much as 80% of students from the economically weaker sections in the city face corporal punishment, according to a report released by a Gurugram-based organisation on Tuesday.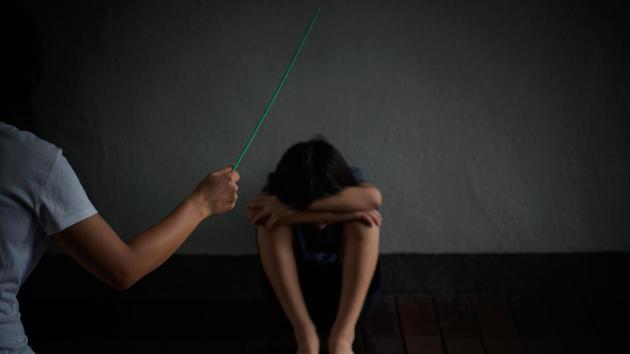 The survey found that 88% students were allegedly beaten up, as a matter of routine, multiple times a week in some government schools, while in other government schools, around 30% experienced corporal punishment multiple times. All 50 students from low-cost public schools, who were part of the survey, reported that they were beaten up.
On an average, almost half of the children interviewed were allegedly beaten by teachers multiple times a week. The report, Choking Childhood, is based on the findings of research undertaken by social organisation Agrasar, which works with disadvantaged communities.
A total of 521 children and 100 parents sampled randomly were surveyed, and an informal group interview with 12 teachers from two different government schools was undertaken.
There are around 130 primary government schools in Gurugram, from which the students were randomly selected. There are around 18,000 students in the primary schools, as per estimates.
The Right to Education (RTE) Act, 2009, prohibits 'physical punishment' & 'mental harassment' under Section 17(1) and makes it a punishable offence under Section 17(2).
"The report studies the impact of corporal punishment on the psyche of children who are doubly disadvantaged by virtue of them being children who are predominantly from poor migrant communities and first-generation learners," said Prerit Rana, co-founder and CEO of Agrasar. He added that corporal punishment in schools was not only a violation of human rights, but also impaired the health and education of the children.
According to the report, 70% of the children reported that they were beaten at home after parents learnt that they were beaten in school. More than 70% of the parents said that they beat their children, as they believe punishment is for their child's well being.
The report also outlined the challenging working conditions and lack of professional conduct among teachers in government schools fostered an environment that puts deprived children at risk of experiencing corporal punishment.
Responding to the findings of the report, Premlata Yadav, the district elementary education officer said, "I will have to see the report to know how the survey was conducted. I do not agree with the findings of the report. One can expect 1-2% of such cases but it is incorrect to say that 80% of the children are beaten."
Yadav added that teachers are not allowed to punish students and strict action is taken if such a complaint is raised. "If we receive information of this nature, we warn the teachers and sometimes, it can also lead to their suspension. We take strict action on reports of corporal punishment," she said.
A Sanskrit teacher at a government school said that corporal punishment is rarely doled out. "Teachers rarely beat students. However, sometimes children do not understand and teachers are compelled to take matters into their hands. I do not raise my hands at my students. I either ask them to do rounds of the ground with their hands raised up or call their parents," she said.