Brace for rough weather in Gurgaon over the next 3-5 days, says Met
Updated on Aug 01, 2017 11:29 PM IST
India Meteorological Department also asked all agencies concerned to be ready to meet any contingency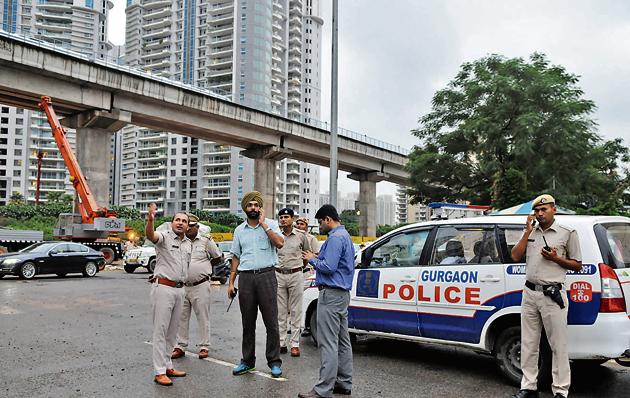 The India Meteorological Department (IMD) on Monday issued severe weather warning for parts of Gurgaon, Delhi and Haryana, predicting heavy to very heavy rain over the next 3-5 days.
Shortly after the IMD put out its forecast, an advisory was sent to all divisional commissioners and district commissioners of the state asking them to be equipped and ready to meet any contingency that may arise due to the inclement weather. Officials said that in the event of heavy to very heavy rain as has been predicted by the national weather forecasters, water level in the river basins of Yamuna and Satluj and their tributaries is likely to rise sharply.
The IMD asked the administration to keep a close watch on the weather and put all agencies concerned on alert and ready to deal with a flood-like situation.
IMD officials said the city recorded a maximum temperature of 32.2°C on Tuesday morning, while the minimum temperature was 25°C. The maximum temperature on Monday was 30°C and the minimum was 27.8°C.
Earlier, the Met officials put out a forecast for Tuesday, saying the sky would largely remain cloudy and there could even be some rain. They also predicted wet weather over the week.
The city received 30mm of rain on Monday and more showers are likely over the next few days.
The district authorities, this year, had begun its monsoon-preparedness early in a bid to keep waterlogging to a minimum.
Gurgaon's commissioner and deputy commissioner of police have been making rounds of the city to assess the traffic situation and the extent of flooding in the event of showers.
"On Monday, we visited several areas of the city and found several roads in Sector 38 and the service lane of Hero Honda crossing waterlogged. Traffic on Sohna Road was moving slowly towards Vatika Chowk and Hero Honda Chowk service lane. Traffic movement on Golf Course Road, especially towards Genpact crossing, was also sluggish," Vinay Pratap Singh, Gurgaon deputy commissioner, said.
Read I Heavy rain lashes Gurgaon, more showers likely this week
"We will step up deployment on these spots from Tuesday and put machines in place to drain out rainwater. We will also ensure desilting of drains at the earliest. While the traffic didn't come to a standstill, it was slow," Singh said.
Although residents said the rain on Monday brought some respite from the heat and humidity over the last few days, Old Gurgaon, South City-2, and Sushant Lok reported 10-hour cut.