Captain Kapil Kundu's village in Pataudi mourns a fallen soldier
Published on Feb 05, 2018 06:52 PM IST
Captain Kapil Kundu was promoted as Captain on January 26 and moved to Rajouri from Poonch recently. He was the first soldier in his village to become an officer.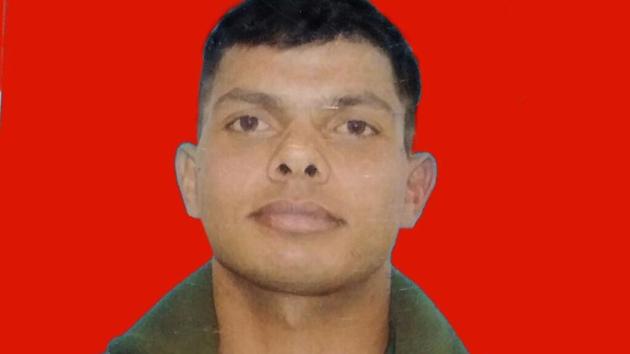 Captain Kapil Kundu who was killed in the line of duty on Sunday in Jammu and Kashmir's Rajouri when Pakistani forces shelled the area, virtually wore his patriotism on his sleeve, says his family.
The young officer would have turned 23 on February 10 when he was scheduled to return home on his birthday.
For residents of his native village Ransika in Pataudi, located around 33 kms from Gurgaon, his life had become a source of inspiration for many simply because he was the first person in the village to become an army officer.
"There have been people who have been recruited in the army in the past but nobody had gone onto to become an officer. He was the first among us to scale new heights and become an inspiration for the next generation," Tarif Kundu, a resident of the village said.
A quote posted by him on his Facebook profile seems to capture his motto stating 'life should be big instead of long.'
The youngest of three siblings, Captian Kundu leaves behind his mother Sunita and two sisters - Soniya and Kajal. His father Lala Ram who worked as a manager in a tile company in Nagpur died of a heart attack six years ago.
Lala Ram had passed away six years ago following a heart attack and Kapil had borne a large share of the family's finances as a cadet in the National Defence Academy (NDA) which he had joined in 2013. His mother recently underwent a knee surgery for which she family moved temporarily to New Delhi to be closer to better medical facilities.
Both the sisters stay in Delhi's Najasfgarh area and the mother was staying with her eldest daughter Soniya.
Kajal was the last person in the family to speak to him at 1 pm on Sunday when he appeared to be very happy following his promotion to the rank of Captain on January 26. He had been transferred to Rajouri from Poonch after the promotion.
"The last time he came home was during Diwali for three weeks and we were all looking forward to his return. On Sunday afternoon I spoke to him and he was brimming with happiness at the prospect of returning home…Life has taken an unforeseen turn," Kajal said.
Kapil studied at the Divine Dale International School, in the nearby Sherpur village. He passed out of the school in 2013. His teachers from the school said that he was a good student, who was very fluent in English.
"He was a student from the first batch of the school and we monitored his progress all through his graduation. Maths and English were his favourite subjects but he excelled in all subjects. He was thankful to his teachers for his education and also invited some of us to his passing out parade in 2016," Purna Thaliya, the Principal of his school said.
Thaliya's daughter Ramya, was also in the same class as Captain Kundu remembers him as someone who loved writing poetry and faced severe obstacles in his life such as losing his father on his birthday during his board examinations.
Villagers say he was initially assigned to the army's supply corps but managed to convince his seniors that he was better suited for combat roles.
His sister Kajal says the family was planning his marriage married in the coming 2-3 years, 'once he was posted to a location which had more peace'.
On Monday, everyone from the village gathered outside his residence to pay their condolences.
For the next generation of this village, he remains a heroic figure.
"Each time, Kapil bhaiya came to the village he will get me stickers of various kinds of planes. Seeing him in a uniform, and the respect it instilled, I too want to join the armed forces as a pilot in the airforce," Himanshu Kunda, a 10-year-old neighbour said.